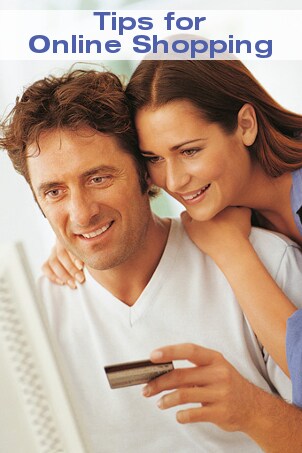 You don't have to battle the crowds and lines that come with shopping at your local mall or megastore. If you are looking for an easy, fast way to buy clothing, housewares, furniture, electronics, and more, shopping online is your answer. As you peruse your favorite online stores, keep these tips in mind to make sure your online shopping experience is a rewarding one.
Best Online Shopping Tips:

Know the size you need. Without seeing items in person, you may not be sure what size they are. For many items -- furniture, light fixture, area rugs, jewelry, clothing, and shoes, for example -- the size is very important. Before you put the item in your virtual shopping cart, make sure you've checked the dimensions in the product description and measured to make sure it's the size you need. Looking for sizing and measurement guides if you're not sure how to determine the best size.

Get all the information you can. Many stores online provide images that allow items to be seen from different angles, so make sure you look at all the pictures to see all the details. Go over all the specifics, including the type of materials, recommended cleaning instructions, and color options. Compare online retailers' descriptions; some retailers will give much more in-depth information on items. Read recent buyers' reviews before making a purchase.

Get email alerts for sales. Online deals are just as common as those at shopping malls, and one of the easiest ways to make sure you're always in-the-know about sales is to sign up for email discounts from your favorite online shops; you will be the first to be notified of shipping specials and other discounts.

Check your favorite sites often. While many stores only get new merchandise every season, websites can get new products every day. If you don't see the perfect thing one day, check back a week later to see if there's anything new. If a holiday is approaching, be sure to check even more often, as the product selection will likely change often.

Search for coupon codes. Many websites offer coupon codes all the time, even if there isn't a special occasion. Before checking out, always look to see if there is promo code you can use. You may have to spend a few more dollars to qualify for it, but the savings are usually worth it.

Check the return policy. Even the most scrupulous shopper can end up with an item that doesn't fit or is the wrong color, so you want to make sure you can return the item should you find yourself in that situation. Learn how many days or weeks you have to return items, and find out whether refunds are issued and if they include shipping charges. Do not remove any tags until you have tried on an item of clothing and decided you will keep it. Keep the boxes and wrapping materials for shoes and other items. Always look for online retailers that have a clearly written return policy and a customer service number you can call in case you have further questions.
What Do You Want to Do Next?

Get Overstock.com Coupon Codes
See What's on Sale Now
Shop Overstock.com
See All Guides
Get More Online Shopping Tips
Learn More about Comparison Shopping