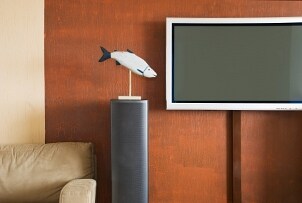 A great way to enhance the look of your entertainment center is to free your TV from its stand and attach it to the wall with a TV wall mount. You have plenty of television mounts to choose from, depending on how adjustable you want the TV wall mount to be. Once you've chosen the right TV wall mount for you, make sure you do a thorough installation to protect your TV. Here are a few tips to make installing your TV wall mount easy and safe.
Installing a TV Wall Mount:

Mark stud locations: Before you start drilling, locate and mark the studs to which you'll be attaching the TV wall mount. Use these marks to help center and level the TV wall mount. Then you can mark the location of the screw holes in the wall mount itself.

Long screws are best: Long screws go deep into walls studs, providing more leverage to hold the weight of your TV wall mount and the TV. If you're using a flat-TV wall mount, the TV mount bracket may or may not come with bolts to attach to the back of your TV. Long screws are great for securing the mounting bracket to your TV, but they may not screw in all the way if they are too long.

Hide your cables: Mounting a flat panel TV with a TV wall mount will look great because your TV looks like it's just floating on the wall. But if you're not building cable connections into the wall, you'll need to hide your power cables and connector cables behind furniture or with cable management systems that can be painted to match your walls.

Check and double-check everything: Check multiple times to make sure that your TV wall mount is both level and secured to the wall studs. You'll be hanging a very expensive, very sensitive electronic device on that flat panel mount. You want to be sure it's installed perfectly.

Ask a friend to help: That TV is heavy. And you may need someone to hold the TV wall mount in place while you level it and mark the screw holes.

Buy Television Mounts
Back to Guides Directory