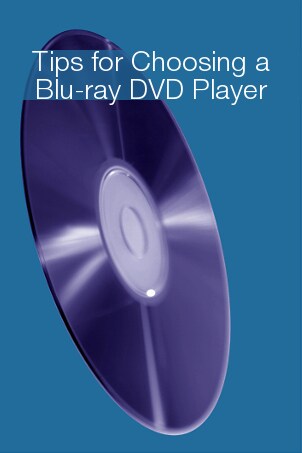 New technologies have led to better picture quality and features for home video. Blu-ray DVD technology is fast replacing DVDs as the dominant media for viewing at home, and you may be considering making the switch yourself. Before you start looking at Blu-ray players, read though these tips to find out what to look for.
Choose a Blu-ray DVD Player:

DVD up-conversion: When people switched from VHS to DVD, they had to replace all their old VHS tapes with new DVD discs. You may want to upgrade a lot of your favorite DVDs with Blu-ray DVD versions -- especially action films, since Blu-ray movies bring out the most in special effects and stunning visuals -- but you can still play your old DVDs on a new Blu-ray player and even improve their resolution to simulate HD video. Look for a Blu-ray DVD player with 1080p up-conversion and give your old DVDs some new life.

Networking features: Some Blu-ray DVD players can be networked to your home's Internet connection, allowing you to browse the Internet, watch movie trailers, and download extras related to you Blu-ray DVDs. More features using this networking capability may be available in the future as well.

Surround-sound output: Not all Blu-ray DVD players put out full surround sound. If you have a surround-sound system as part of your home theater, take full advantage of your Blu-ray movies by choosing a Blu-ray DVD player that produces surround-sound output.

Built-in audio decoders: There are several surround-sound formats out there, like Dolby Digital, DTS Digital Surround, and others. Blu-ray DVD players are starting to take advantage of those formats, as well as newer codecs, like DTS HD and Dolby True HD. Choosing a Blu-ray DVD player with built-in audio decoders for these formats will ensure that you can get the best sound possible, now and in the future.

Multiple-disc compatibility: There are many different DVD, CD, and Blu-ray DVD formats. If you plan on viewing or listening to recordable disc formats with your Blu-ray DVD player, you'll want to make sure that it can read them.
What Do You Want to Do Next?

Shop Blu-ray Players
Shop Televisions
Shop All Audio & Video
See All Guides
Read More Electronics Guides
Learn More about Audio & Video