How to Decorate Small Apartments
Tips & Tricks for Decorating Small Rooms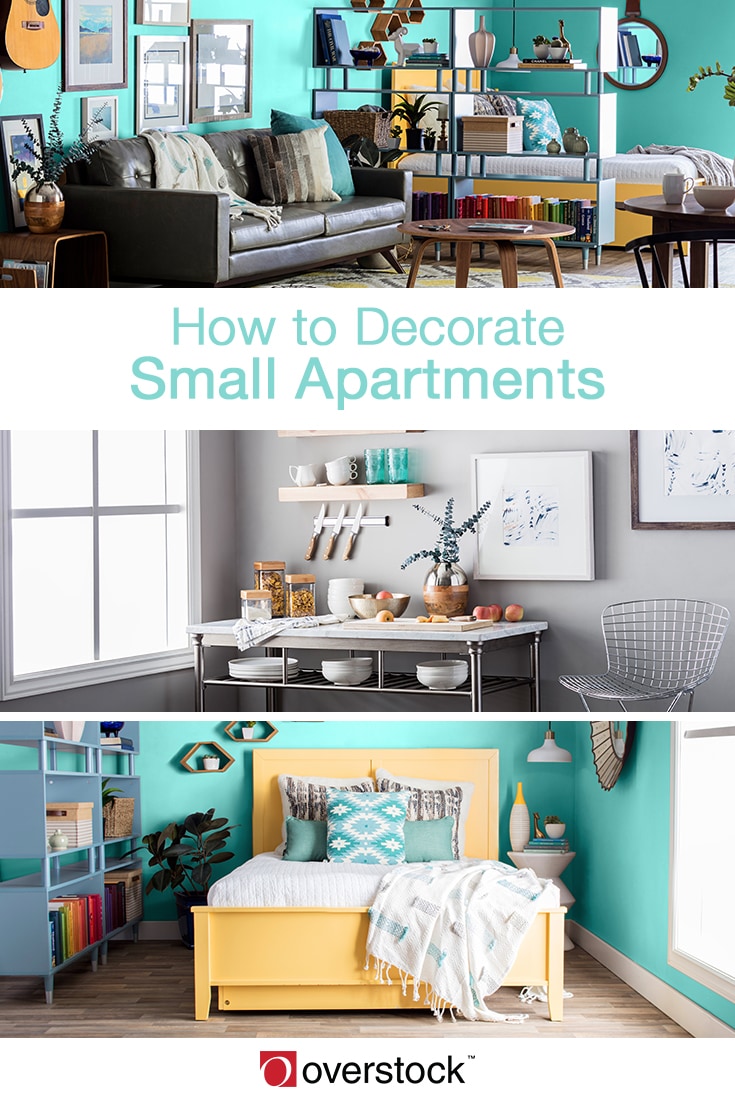 Small living spaces are a fact of life, whether you live in a small apartment or only have one or two small rooms in your home. The great thing about small living is that it often means you're living a more efficient and less expensive life. But don't worry, living small doesn't mean your design options are limited. Careful thought and planning will help you get what you need and want from your small apartment, giving you the space you need to live your life to the fullest.
As you work your way through this guide, you'll find tips and tricks listed for specific rooms. But remember that most small room ideas can work in all room types; it's all a matter of what works best in your unique space.
Basic Tips for Small Space Design
8 Principals and Practices for Small Apartments
Before you start picking out furniture and hanging art, there are a few foundational principles and practices to consider when designing your small apartment or small room. This short set of basic guidelines will give you a solid place to start when making your small space both beautiful and functional.
1. Evaluate Your Lifestyle
Take stock of how your living space serves you day-to-day to determine how you need your space to function. If you think about each room's purpose, you can design around your most important and most functional furniture and decor. Think about how much time you spend at home and what you need to do or store there. For example, you'll need a dedicated workspace if you work from home, a place for your bike if that's how you commute or exercise, or an expandable table if you love to entertain.
It may be helpful to keep a list of your must-haves with their respective estimated measurements. That way, when you compare the measurements to your actual floor plan, you'll easily see where you need to make some furniture multi-functional or otherwise get creative with your space.
2. Design By Personality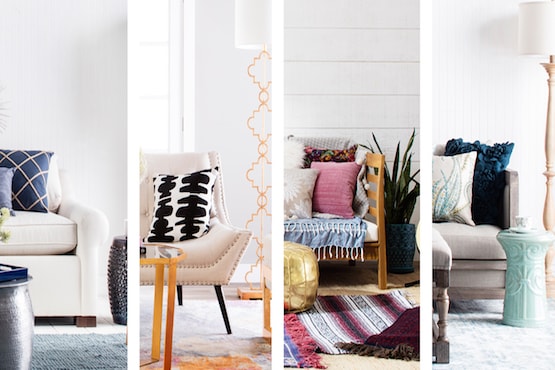 Living small doesn't mean you have to live minimally. Your style and personality can still be your guiding light as you deco- rate your small apartment. Starting can be as easy as picking paint colors that reflect your personal sense of style.
If you need a little style push, think about what makes you tick in your day-to-day life. If you are a thrift store junkie, look to Mid-Century Modern and Shabby Chic decor for inspiration; if you're always dreaming of the beach, bring Coastal decor home; and if your wanderlust is never satisfied, pull ideas from Boho Chic decor.
3. Reduce and Declutter
The reality of a small space is that you don't have the luxury of hanging onto things that you don't use regularly. That being said, downsizing does not always mean living in a minimally. If you plan thoughtfully, you'll have plenty of room to display art, knickknacks, or other items with special meaning.
Decluttering and downsizing can be a huge undertaking, but if you have a small apartment, the time and effort are worth it. To get started, gather all like items in one area, like all your clothes or all your kitchen tools. As you sift through your belongings, get rid of duplicate items or things you haven't used in the last six months. For more personal and decorative items, keep only the things ones you absolutely love.
4. Get Creative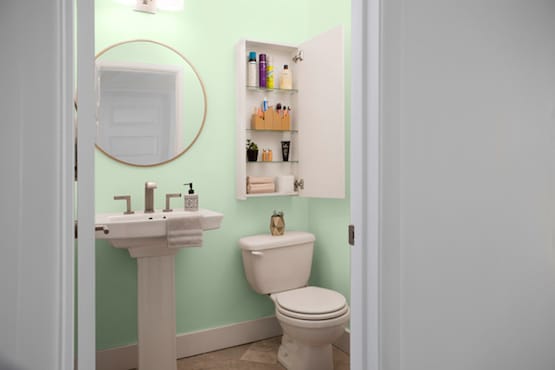 When you begin to plan the organization of your small space, you may find you don't have enough room for some of your personal essentials. This is the time to get creative. Make the most of your space by using oft-ignored nooks and crannies to your advantage. For instance, behind every door there is dead space begging for jacket hooks, a door orga- nizer, or a series of floating shelves.
Other space-saving ideas include foldable and expandable tables and chairs, furniture mounted on caster wheels for maneuverability, and multipurpose furniture like a bedframe with drawers or a hinged ottoman.
This is not where the creative story ends, especially since your specific needs and living space are unique. As you get creative with your solutions, remember that you'll still need to easily access everything you use regularly. Be sure to focus on storage solutions that are particularly suited to your space.
5. Think Vertically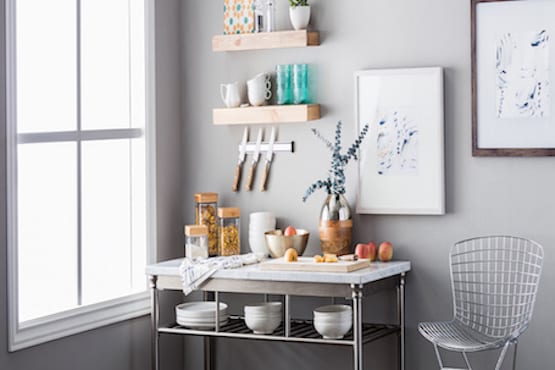 Your mantra while decorating your small apartment or room is "Think Vertically." With limited floor space, your walls are a wealth of real estate that can be used for more than art. It's all about mounting things that normally would take up valuable floor space, like TVs, lighting, sporting equipment, and floating shelves. Plus, using tall furniture — or otherwise taking advantage of the full height of your walls — draws the eye up, giving the illusion of a bigger room.
A classic way to make your small apartment appear bigger is to hang your curtains all the way to the ceiling and letting them hang all the way down to the floor. This uses your full wall height to your advantage, making your windows and room appear bigger while adding a touch of dynamic drama to your design.
6. Use Light & Mirrors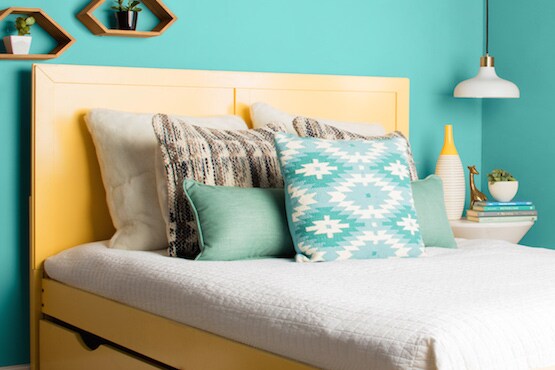 Lighting is key to making any small space feel bigger. Good lighting visually opens a space and gives a room a fresh and airy feel. There are three basic light sources: natural light, artificial light, and reflected light.
To make the most of natural light in your small room, make sure that when your window treatments are open they do not block any part of the window. Roman shades or curtains that you can push all the way out to the sides are your best bet.
When it comes to artificial light, your new Think Vertically mantra comes into play. Instead of using lamps that take up valuable table and floor space, hang your lighting. Use pendant lights, sconces, or even a set of curtain lights to brighten up any dark corners in your small rooms.
Mirrors have a double-whammy effect in small rooms. They'll both help reflect light back into the room, and the reflection adds an illusion of depth. If you can hang a mirror opposite a window, do! You'll bring in even more light and depth with the added bonus of bringing a wee bit of outdoors inside.
7. Rethink Color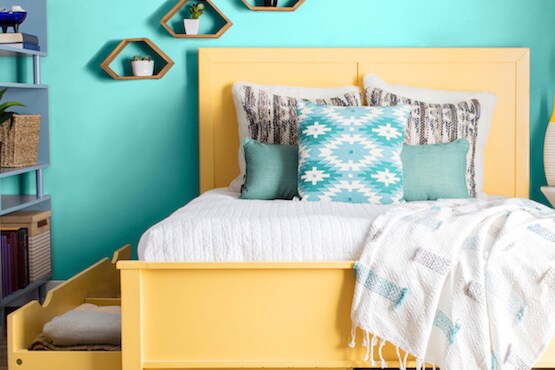 Professional interior designers seem to be divided when it comes to which paint colors and schemes work best in a small space, but they do agree on two things. 1. No all-white rooms. A completely stark white space adds no visual depth to the room and it can feel clinical. 2. Basically anything goes as long as you love the color and it's part of a cohesive design.
That being said, traditional thought about small spaces suggests keeping your walls fairly light while painting your ceiling a darker color to add an illusion of height. Similarly, painting one wall in a bold accent color can give an illusion of depth. It's a tried-and-true option, but it's not your only color option.
Whether you want to stick with traditional or add a little more verve to your small room, keep in mind the effect and feeling you want in your space. Light, cool colors will give you an airy feel; rich, warm colors will give you a cozy feel; and bright, splashy colors will add drama.
8. Create Visual Seperation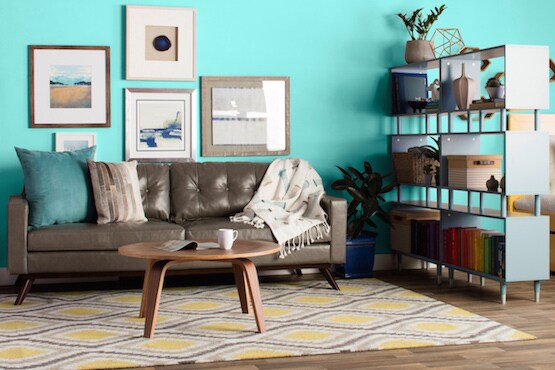 It may seem counterintuitive, but treating your small space as one space is not always your best option. Creating small areas dedicated to eating, working, and downtime can give your space a more organized sense of purpose and help you keep your days structured and meaningful.
There are several ways to visually break up your space. You can use an area rug to create a subtle space separation, you can use a tall bookshelf or retractable curtain to more physically separate your space, or you can land somewhere in between with a short, wide bookcase or antique screen.
Tips for Decorating Small Bedrooms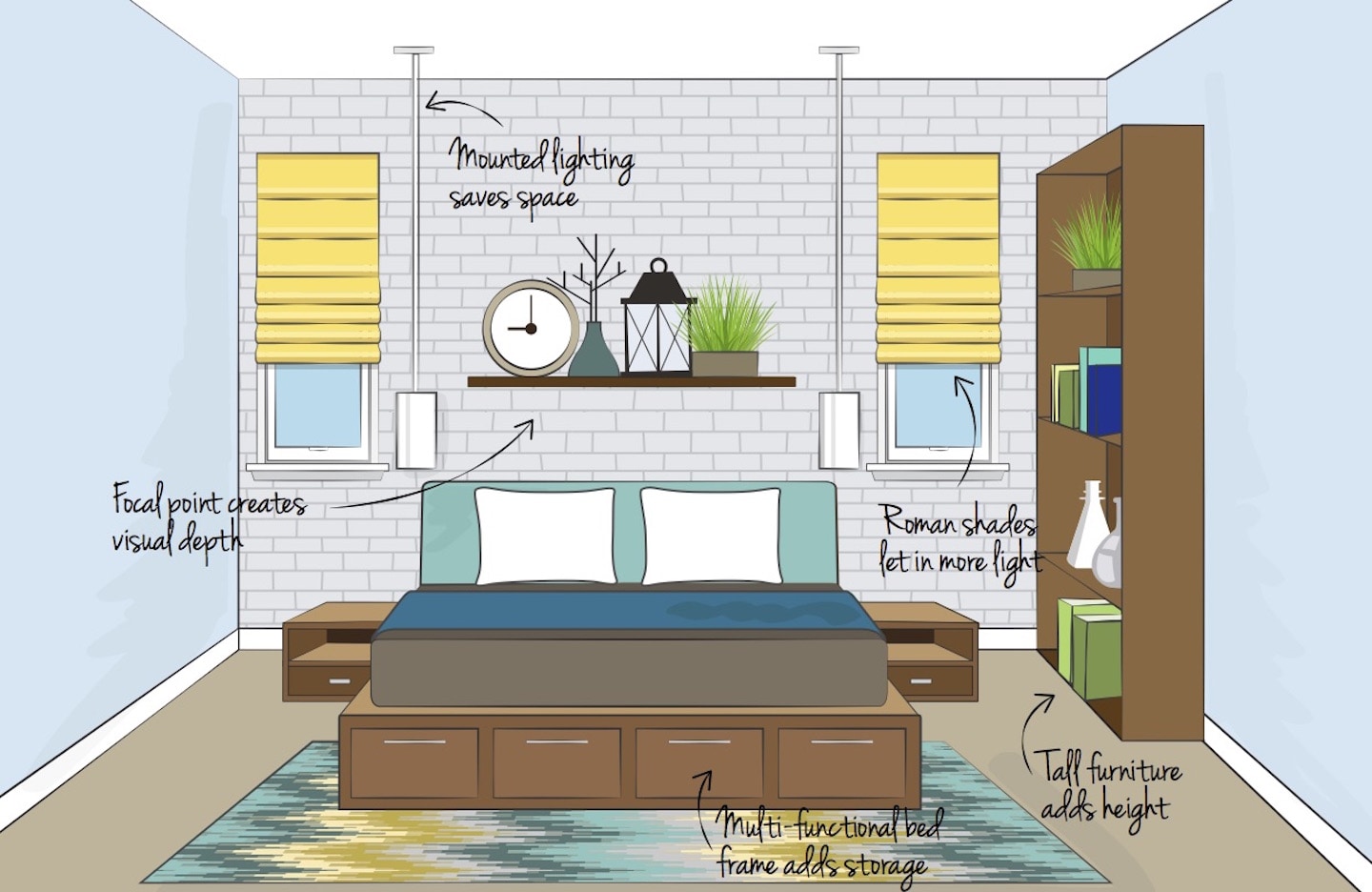 Small Bedroom Design Principles
A bedroom is unique in your small space design, because its main function will be the same for virtually everyone: sleeping. Even if you need your bedroom to have more than one function, making sure you create a place that helps you get the rest you need is a priority.
Small Bedroom Design Practices
Think Vertically
There are several solid opportunities for using your wall space in a small bedroom. Floating nightstands are a perfect solution for freeing up floor space. Add a basket or bin for extra storage under your nightstand or leave the space empty for an airy feel. To free up space on your nightstand for books and mementos, use wall sconces or hanging pendant lights for bedside lighting.
Color Pop
The sky's the limit when it comes to color options in a small bedroom, so your choice is more about the overall feeling you want to create in your bedroom. For a cozier feel, darker colors are just the ticket, but for a fresh and airy feel, light colors and neutrals are the way to go.
Focus Up
If making your bedroom appear larger is on the top of your list, design around a focal point. Having a single eye-catching design element in the room can help distract from the small size of the room. A focal point can come in the form of an accent wall, an oversized bed, or a dynamic piece of art.
It's Bedtime
Choosing your bedframe all depends on how much storage you need. If you need a large amount of storage, risers will give you extra space underneath. A bedframe with drawers is a great double-whammy storage solution, but if mere inches make a huge difference in your small bedroom, consider a floating headboard coupled with a Hollywood bedframe (a simple metal bedframe) and bed skirt to hide under-the-bed storage.
Tips for Decorating Small Living Rooms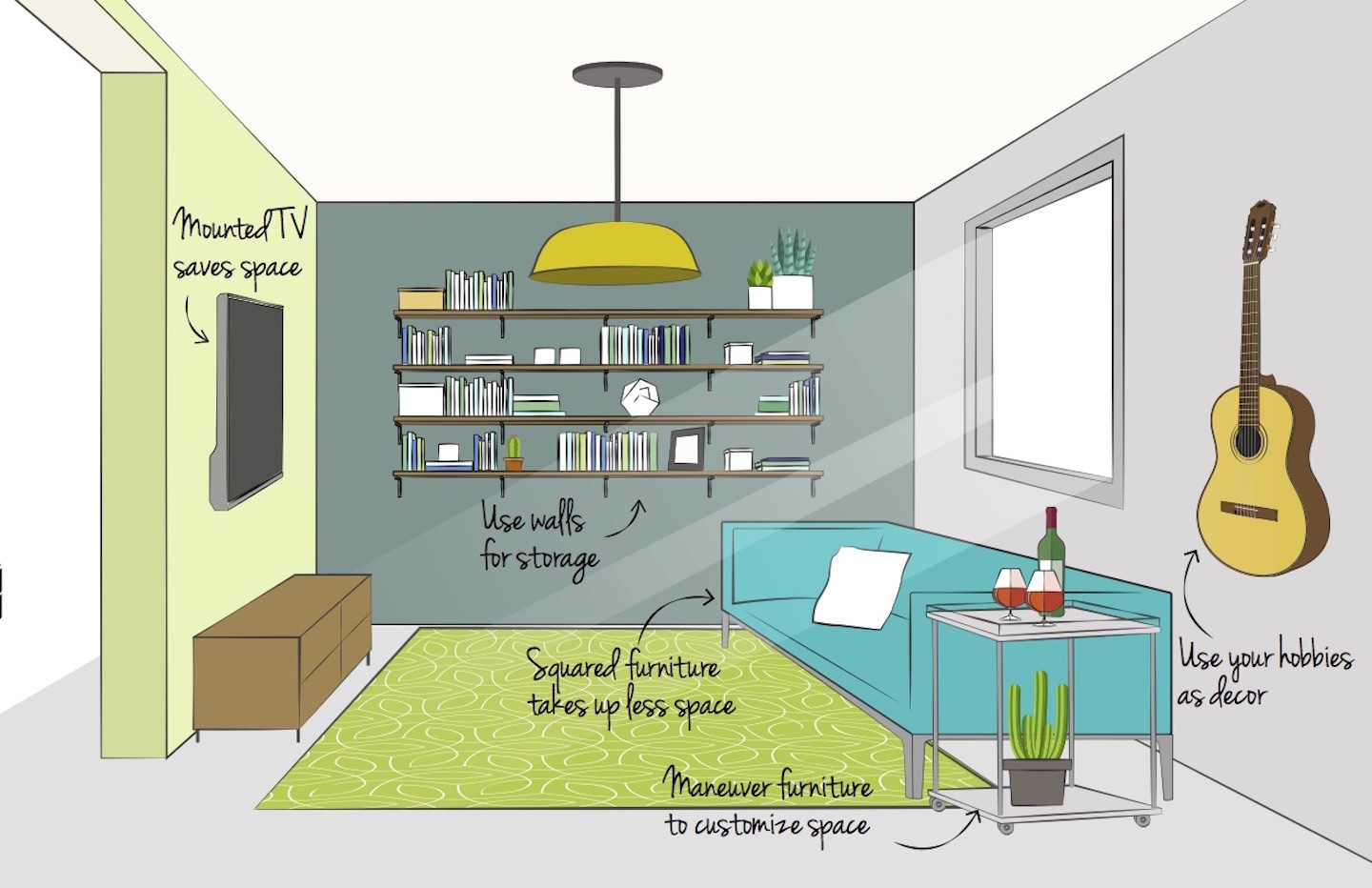 Small Living Room Design Principals
A living room is often the heartbeat of a home, serving several functions: home office, entertaining space, Netflix central, and more. This means it's doubly important to declutter and organize. Even if you're packing a lot into your small living room, keeping it well-organized will create a sense of structure. Otherwise your small space can quickly look messy and overcrowded.
Small Living Room Design Practices
Think Vertically
If you include a bookshelf in your design, go tall and shallow over large. If you have a lot of items you want to put on display, don't be afraid to fill a whole wall with cubby shelving or other vertical solutions. And of course, mount your TV on the wall to give you extra floor space.
Show Some Leg
Choose furniture that sits up on legs and doesn't have a skirt. This helps give an open feeling in your small space. A room can also feel more open if all your furniture isn't pushed against the wall. A narrow console table between the couch on the wall will look less crowded, plus it gives you a place to put decorative items, books, or snacks when you're watching TV.
Pop a Wheelie
Since your living room will likely have several functions, it's important that your furniture can be flexible according to your needs. Side tables, coffee tables, or carts on caster wheels allow you to easily rearrange your space at a moment's notice.
Square Up
A small space doesn't always call for small furniture. If having a big comfy couch is a priority, then get a big comfy couch. Just make sure your couch isn't too big for the room. The trick is to choose squared-off furniture over curved furniture. Squared edges take up less room, giving you more space both physically and visually.
Tips for Decorating Small Kitchens
Small Kitchen Design Principals
If you cook at home, your kitchen organization is a high priority. Other than getting rid of duplicate items, you don't need to downsize your cookware to make a small kitchen work. It's more about getting creative with your storage and putting your prettiest dishes and cookware on display.
Small Kitchen Design Practices
Think Vertically
It's important to have a place for everything and everything in its place to keep your small kitchen uncluttered and efficient. For creative organization and use of dead space, put your whole kitchen on display. Show off your best dishes on open shelving or hang shiny pots and pans on the wall. Both solutions give you easy access as you cook and allow kitchen items to double up as decoration.
Know When to Fold 'Em
Some kitchens are so small that even the smallest table and chair combos feel bulky. If this is the case, a table that's mounted to a wall and folds up when not in use is a must. Folding chairs give you the option to add seating as needed while taking up as little storage space as possible.
Free Wheelin'
Wheels to the rescue (again) when it comes to making the most of your space. A kitchen island on wheels will give you prep space when you need it, but it can be pushed out of the way when you don't. If you don't have room for a mobile island, a small utility cart with wheels can serve a similar purpose as far as extra storage is concerned.
Keep It Clean
You may be tempted to stack and store things on your counters and prep space, but keeping those areas clear of clutter will truly make a huge difference in how open your kitchen looks and feels. If you can't seem to keep things off your counter, go back to the small space mantra, Think Vertically, to find useable dead space on walls, under cabinets, behind doors, and even on the ceiling.
Tips for Decorating Small Bathrooms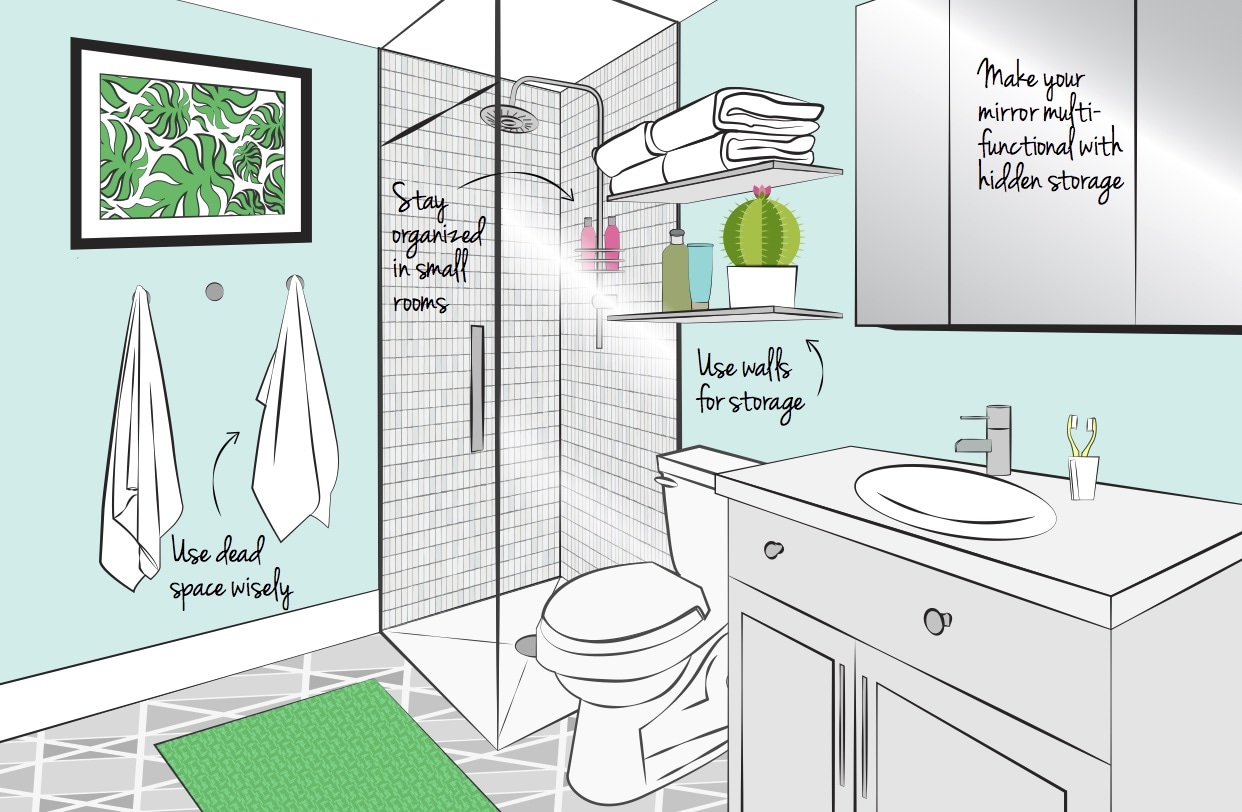 Small Bathroom Principals
Your bathroom is likely the smallest room in your home if you live in a small apartment or house — and decorating a super tiny bathroom can be intimidating to tackle. First and foremost, your bathroom needs to be functional. It's all about finding creative solutions to keep things you use daily close at hand, then finding ways to store items you only need to access occasionally.
Small Bathroom Practices
Think Vertically
The bulk of usable space in a small bathroom is above the toilet. Standing over-the-toilet storage works well, but if you want the same amount of storage with a more open feel, hang a series of floating shelves above the toilet. An above-the-sink medicine cabinet is also a perfectly simple solution to keep your most-used items at hand.
On the Hook
Hooks are a small bathroom's best friend. Forgo a traditional towel bar and hang a series of hooks to hang more towels, robes, and decor in the same amount of wall space. Don't forget about all the space behind the bathroom door for either mounted or over-the-door hooks.
Shower Thoughts
Don't overlook your shower as you choose storage and organization solutions. Shower curtains with pockets are a surprisingly elegant solution to decluttering your shower on the inside of your shower and adding more storage space on the outside of the curtain. Showerhead caddies and hooks with suction cups will also help you keep all your bottles, scrubbers, and washcloths in order.
Behind Closed Doors
If hooks on your bathroom door aren't the right solution for you, don't fret. There are several types of over-the-door organizers with pockets, baskets, or trays. There are even over-the-door, full-length mirrors that open up like giant medicine cabinets for maximum storage.
---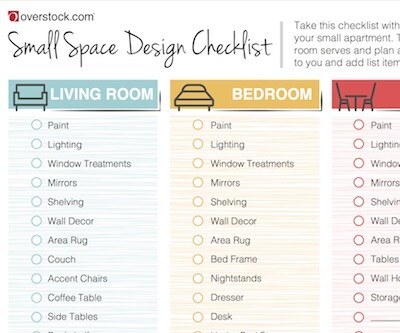 Small Space Design Checklist Printable (PDF)
Take this checklist with you to help eliminate surprises as you design your small apartment. To get started, think about what purpose each room serves and plan accordingly. Strike out list items that don't apply to you and add list items as needs arise.
Download ›
---