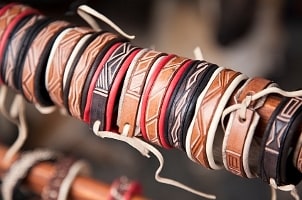 Leather has been popular for centuries, and leather jewelry is very sleek and stylish. Men's jewelry needs to be interesting, unique and masculine, and leather jewelry fits the bill. Men's leather jewelry is also versatile; many different timeless leather men's jewelry pieces are available. A piece of men's leather jewelry can add rugged style to your wardrobe for an entire lifetime. Choose one of our favorite leather jewelry styles for a piece that will never go out of fashion.
Men's Leather Jewelry for Every Occasion:

Cuffs: Leather cuff bracelets have been popular for decades, and even though they are incredibly trendy, they aren't likely to go out of style anytime soon. Thick leather cuff bracelets can be plain or embellished with metal stars, studs or spikes. Black leather cuffs are sleek, while brown and tan leather cuff bracelets are rustic. Colored leather cuffs are also available; shop for blue, green or red leather bracelets. Leather cuffs are easily stamped or engraved with intricate designs, famous sayings or your initials.

Braids: Braids have always been useful for creating leather ropes for practical purposes, but braided leather is also aesthetically pleasing. Braided leather jewelry has an old-fashioned appeal, but it goes perfectly with a contemporary wardrobe. Braided leather necklaces, bracelets and rings will round out any casual or formal outfit.

Cords: Leather cords are simple, but they are incredibly useful. If you have a favorite pendant, you can hang it from a leather cord to create a masculine necklace. Leather cords also make great bracelets and rings. Choose from leather cords in a variety of hues; you can collect a myriad of leather cords for every occasion.

Watchbands: If you want to add leather to your look, but you aren't sure if jewelry is right for you, then consider leather watchbands. Choose from a variety of watches with leather watchbands, or change the existing watchband on your wristwatch. A new set of leather watch straps can be very affordable and will quickly update any timepiece. You can even collect leather watchbands in many different textures and hues.

Mixed materials: Leather looks great when it is paired with stainless steel, rubber and gold. Woven leather and steel bracelets, necklaces and rings are very eye-catching. Leather jewelry with gold embellishments is texturally rich. Many pieces of leather jewelry incorporate several different shades of leather; indulge in interesting leather jewelry and enjoy wearing these pieces for many years.

Buy Men's Jewelry
Back to Guides Directory