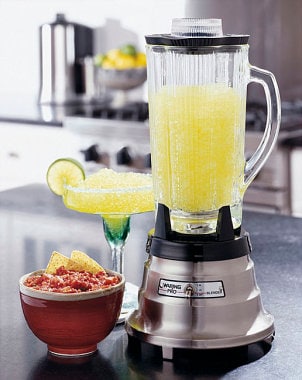 When you think of kitchen appliances, one of the first to come to mind is a blender. Blenders are a kitchen staple; they're versatile enough to make hot and cold foods plus drinks and more. Blenders come in a variety of sizes and shapes, plus your choice of colors and finishes. Pair those blender choices with all the optional features and you'll find there's a blender out there for everyone. No other kitchen appliance has the potential to create so much fun.
Delicious Blender Ideas:

Smoothies: One classic use for a blender is a traditional smoothie. To make a smoothie, choose your favorite fruits (frozen fruit will help create a thicker smoothie), chop them into chunks, add yogurt and blend. Taste your smoothie and add sugar, honey or agave nectar as needed to sweeten the mixture. You can also use orange (or any flavor) juice to thin it out if your mixture is too thick.

Shakes: A blended shake is essentially the same as a smoothie, but it has ice cream instead of yogurt. You can also substitute crushed up candy for fruit or try a sweet/tart combination of ice cream and a fruit of your choice.

Drinks: Alcoholic or not, a delicious blended drink is a treat on a hot day. Use your blender to create icy concoctions for parties or as a luxury for yourself. Make sure to add some liquid before you try to blend ice. Don't overfill the container or you'll have a mess on your hands and unblended chunks in your drink.

Soup: When you need a smooth soup, you need a blender. No matter how much you chop and dice, you'll never achieve the even consistency that the rapidly rotating blades of a blender can provide. Whether you're trying to create a perfectly silky consistency or a creamy base, a blender can help create the perfect soup.

Salsa: Fresh salsa is a delicious addition to nearly any meal; create chunky salsa with the help of your blender. If you're looking for a liquid dip, go ahead and toss the whole concoction into the blender. If chunky salsa is your style, blend only half your salsa and then combine it with the unblended portion for a dipping delight -- the best of both worlds.

Buy Blenders
Back to Guides Directory