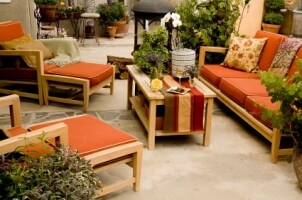 Small and large houses alike can benefit from attractive outdoor rugs. The right outdoor rug can extend your living room into your yard and make use of space you didn't realize you had. If enjoying the outdoors is a priority for you and your family, then read on for all the things you need to know about outdoor rugs.
Outdoor Area Rug Facts:

Caring for outdoor rugs: The easiest way to care for an outdoor rug is to prevent it from getting dirty in the first place. Clean up spills as quickly as possible to prevent them from setting. Vacuum regularly to keep dirt from getting ground into the fibers and occasionally sweep underneath the rug to prevent damage from below. Double check the tag for water-resistance and then get ready to hose down your rug. If you place the rug over a railing or on an incline, water will run off and the rug will dry quickly. For stubborn stains, you can scrub with a brush or create a solution of mild dish soap and water. Make sure both sides of the rug are dry before you put it back on the floor to prevent mildew. In extreme weather and when you know you won't be using the rug for long periods of time, go ahead and roll it up for storage.

Materials for outdoor rugs: Outdoor rugs, by definition, need to be able to survive life outside the protection of roofs and walls. There are different options for outdoor rug materials, and what you choose should depend on where you plan to use the rug and what look you like. Outdoor rugs can be made from nylon, polyester, polypropylene and more. Most are mold- and mildew-resistant, and some are treated to resist fading from exposure to UV rays. Bamboo is a popular material for outdoor rugs and is best used in a covered area.

Using outdoor rugs indoors: While many outdoor rugs can be used indoors, most indoor rugs don't do well when exposed to the elements. If you've found a texture, pattern or color that you love in a rug, there's no reason not to use it inside. Make sure to get an appropriate rug pad to protect your floor and prevent slipping and be aware that some outdoor rug materials shed more than traditional indoor rug components.

Buy Outdoor Area Rugs
Back to Guides Directory