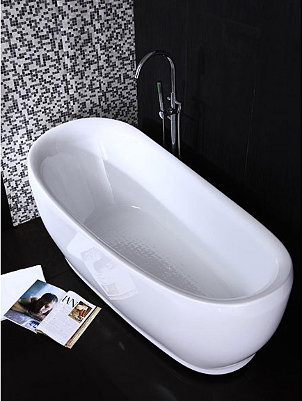 Whether you plan to soak in it or scrub down kids in it, a new tub can change the look of your bathroom as well as how you use your bathroom. Consequently, finding the right bathtub for your family makes a big difference in how much you enjoy your bathroom. Fortunately, bathtubs nowadays come in wide variety of designs, sizes and finishes, so you're bound to find a tub that fits your home if you're willing to do a little homework and research. Keep reading to find out a few things to keep in mind as you search for the perfect bathtub for your home.
Choosing a Bathtub:

Consider the size of the bathroom. Also, where will you place the bathtub? The most common bathtubs, recessed bathtubs, don't necessarily save space by being recessed, but they are usually designed to fit in small to average-sized bathrooms, making them a good choice for many homes. If you have a corner and adequate space available, then a corner tub may be an option. Claw-foot tubs are eye-catching, but they aren't particularly space-efficient, which makes them best suited to larger bathrooms. Getting an idea of the measurements of your bathroom and the place you want to put your tub can help you sort your options.

Think about how often you will use the tub. Some people love soaking in a tub of steaming hot water and do so regularly. Some people like soaking in their tub, but rarely take the time to do so. Some people really don't care and find showers to be perfectly adequate. Which sort of person are you? If you plan on spending a lot of time in your tub, then a quality whirlpool tub may be well worth the money. If you don't expect to use your tub very often, then an extra-large tub or a tub with lots of bells and whistles may be unnecessary, and a shower-tub combination may work just fine. If you don't plan to use a bath tub at all, then maybe an attractive shower will suit you best.

Look at your bathroom decor. Once you've thought through how you plan to use your tub and your space limitations, you'll want to choose a style that complements the decor of your bathroom. Fortunately, bath tubs come in a variety of different designs and finishes, so you're sure to find a style that you like. Recessed tubs are attractive, utilitarian and inconspicuous (as far as bathtubs go), which is just fine if you don't want your tub to be the centerpiece of your bathroom. Claw-foot tubs and other free-standing bathtubs, on the other hand, usually draw attention to themselves, becoming the focal point of the bathroom. When you've decided which design you prefer, then you can seek out a finish that suits your decor. While classic white still dominates the bath tub world, you can find bath tubs in bronze and stainless steel as well as a variety of other finishes.

Buy Tubs
Back to Guides Directory