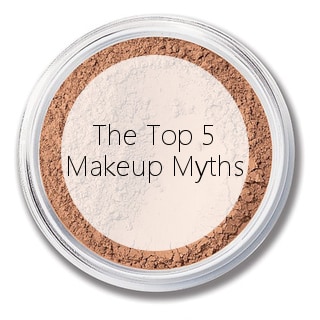 SHOP MAKEUP NOW >>
A quick trip to the drugstore is all it takes to realize how mystifying the world of makeup can be. With thousands of choices, colors, and tools to choose from, how do you separate makeup fact from fiction? It can be tough to know whether to follow the advice from the latest beauty magazine spread. This guide is here to bust some of makeup's biggest myths.
The Biggest Makeup Myths:

Myth: Concealer should be applied before foundation. This may be one of the most common misconceptions about makeup application. Concealer works best when it is one to two shades brighter than the shade of your foundation; it works even better when it is applied over a base coat of foundation. This allows you to brighten the under-eye area or other dark spots while blending seamlessly into your foundation base.

Myth: Change your makeup with the season. Holidays and new seasons are great occasions to try out new makeup trends and colors. However, there is no need to change your basic makeup routine based on the season. Generally, what looks best on you in the bitter cold of January will also look great on you in sticky, hot July. Of course, sunscreen is the best beauty product of all, but if you find yourself with some bronzed skin during the summer months, you may need to swap out your foundation for a subtly darker shade. Bronzer in the same shade as your go-to blush will also complement sun-kissed skin.

Myth: Clean your makeup brushes every few months. Makeup brushes are a breeding ground for dirt and bacteria, and should be washed every week to keep them in top condition. If you struggle with acne or sensitive skin, it's wise to clean your brushes even more frequently. An easy way for an effective clean is to use a bit of gentle baby shampoo and rinse beneath warm running water. Dry the brushes either standing up or with the bristles hanging from the edge of your counter to avoid soaked, damaged bristles. Store them in a water-resistant case to keep them clean between each use.

Myth: Pick colors based on your skin tone. Are you worried whether the latest makeup color trend will complement your skin tone? Don't overthink it. Most women can wear any color as long as it is applied correctly and in the right shade. Determine the basic undertone of your skin, whether it's cool or warm, and pick a complementary version of the latest color trend. For example, women with cool, fair skin might opt for a red lipstick with a bluish or purple tone as opposed to a warmer orange or burgundy.

Myth: Throw away all of your makeup every six months. The shelf life of makeup depends on the type of product. Eye makeup should be replaced most frequently; mascara and eyeliner can be a breeding ground for bacteria and the risk of eye infection increases the longer you keep the product. A good rule of thumb is to throw out your mascara every six to eight weeks or as soon as you notice a change in scent or texture. Blushes, foundations, and shadows have a longer shelf life; it's more important to make sure your application tools are regularly washed to avoid acne and skin irritations. Always take note of expiration dates on all of your makeup products and ditch any items that change color or consistency.

Shop Makeup Sets
Shop Makeup Brushes
Shop All Makeup
See All Guides
Read More Health & Beauty Guides
Learn More about Beauty Products
Published January 25, 2013
Updated December 9, 2014