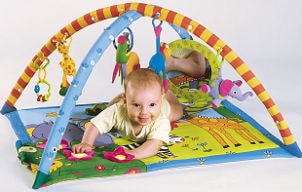 Infants need stimulation and playtime to help develop their growing bodies and expanding brains. Gyms and playmats are great educational toys and can be enjoyed by a baby of any age. Baby playmats are great for entertaining an infant and giving them sensory experiences at the same time. Playmats and baby gyms also make great baby gifts. Use our baby playmat benefits to discover why playmats are among the best baby toys and choose a baby gym for your infant.
The Top 5:

Safety: The best baby toys and baby products are those which have been tested significantly for safety. Most playmats are made with tiny babies in mind, making them a good baby toy for infants. Baby gyms have educational toys that are large enough to avoid choking hazards and stitches that are reinforced to ensure the pieces are durable and able to stand up to chewing, slobbering and pulling. When shopping for safe baby toys, consider the durable baby playmat.

Portability: Traveling with your infant can be overwhelming at times, and it helps to have baby products that can entertain and soothe your little one when you are visiting friends and relatives. Most playmats and baby gyms fold up, making it easy to tote them along wherever you go. Baby playmats are also clean and safe, so they are great to use when traveling.

Development:Baby gyms are designed to be educational and to encourage baby's development. Most gyms have hanging toys that babies can grasp or pull during play and some playmats have flaps or fasteners that your child can learn to manipulate as he gets older. Many baby gyms feature spinning toys that must be turned to create a rewarding effect. Carefully consider developmental aspects when comparing playmats.

Sensory stimulation: Playmats are made with bright colors and a variety of differently textured fabrics. Your baby will enjoy touching rough ribbons, smooth plastic and soft stuffed animals. Many mats include a mirror so that the baby can see her reflection. Some playmats incorporate music or crinkly fabric that makes noise when she moves or pulls on toys. These features provide your child with important sensory experiences.

Older children:Though playmats are perfect for infants and babies, toddlers and older children can appreciate baby gyms and the different toys and sensory experiences they offer. Your infant and two-year-old can enjoy a baby playmat together and entertain one another, whether you are at home or camping by the lake.

Buy Gyms and Playmats
Back to Guides Directory