The Complete Outdoor Furniture Guide
When creating your outdoor space, your outdoor furniture will be the star! But it can be daunting to find something that's your style, fits your space, and is functional for your climate. This buying guide contains helpful info and handy tips to make the process less intimidating and your end result a stellar success.
Tips for Finding the Best Outdoor Furniture for You
Outdoor furniture is the framework that your outdoor space is built on. That's why it's so important to find patio chairs, sofas, and tables that you really love. There is quite a variety of material and style options to choose from, so you can let your creativity run wild! Read on to learn all about outdoor furniture and decor so you can create an adorable patio area that is perfect for entertaining or relaxation.
Questions to Ask Before You Buy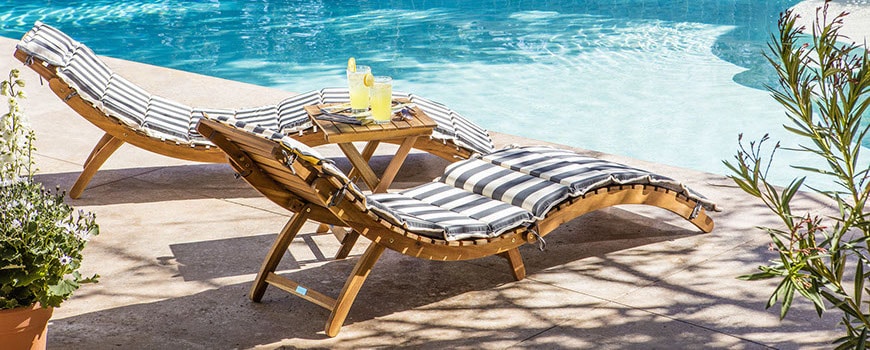 Function
How will I use the furniture? Will I be relaxing, dining, entertaining or sunbathing? How many people will use the space? If you only plan to use your outdoor space occasionally, a few basic items will suffice. But if you plan to use it frequently, shop for durability. If you'll regularly be hosting large groups, consider pieces that perform more than one function. A teak storage bench can double as a table, seat, or storage when it rains. Ottomans can double as seats or tables as needed.
Size
Have I measured my outdoor space? Have I considered the shape of my space as well? Is the furniture scaled for the outdoor space where it will be used? Considering size and scale is a must. It's helpful to sketch out your outdoor floor plan on paper. This way you can consider different ideas and plans before you commit to your outdoor furniture. Make sure to account for walkways, doors, patios, etc., then draw in furniture items you're considering.
Climate
Do I live in a region that is hot and dry or near the coast with continual humidity? Does it rain often? Consider your climate when choosing your outdoor furniture as it will affect the amount of maintenance required and the potential lifespan of your patio pieces. Dry conditions may dry out wood furniture, causing some to splinter or crack, and wicker furniture doesn't do well in constant moisture and humidity.
Style
Does the style of the furniture integrate well with the overall look and feel of my home? Do the colors complement my home and landscaping?
Consider these general design types when considering what patio furniture works best for you.
Casual style is laid-back and inviting. It's functional yet welcoming for your family and friends.
Formal style often reflects your indoor areas with refined, classic designs.
Sophisticated style features clean, contemporary lines for a subtle style.
Fun style is full of dynamic personality with funky patterns and bold colors.
Maintenance
How much maintenance am I willing to perform? Have I picked furniture that suits my climate, reducing the amount of upkeep needed? There's a wide range of maintenance needs for outdoor furniture. Make sure the furniture is made of a material that is either minimal upkeep, or you're committed to the time needed to keep it in good shape.
Storage
What type of storage space do I have available during the winter? Can I stack or fold the furniture if needed? If you're able to store your patio furniture inside during the winter season, it can reduce some of your furniture maintenance. If it can't be stored inside, plan on purchasing furniture covers to defend your outdoor furniture from the elements.
Quality
Is the patio furniture good quality? How will it stand up to the elements? How long am I planning on using it? Outdoor furniture of excellent quality will provide countless hours of entertaining and relaxation. Signs of quality workmanship are sturdy joints, dovetail or mortise joints, dowels and pegs, and stainless steel screws.
Budget
What is my budget? If my budget is limited, can I get a similar look in a less expensive material? If you're on a budget, consider less expensive materials until you can upgrade to your ultimate patio set or think about your long-term plans and invest more now for better comfort and durability. Ultimately, think quality and buy the best you can afford.
---
Patio Furniture Materials and Their Care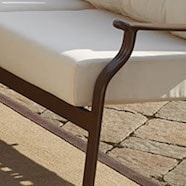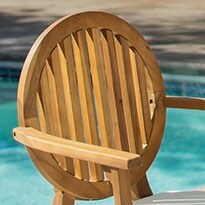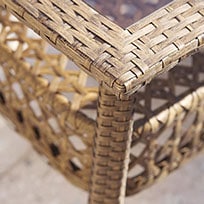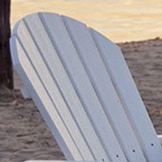 Purchasing outdoor furniture can be a big investment, so it's important to pick a material and maintenance level that works for you. Check out this handy guide when considering your options.
---
Metal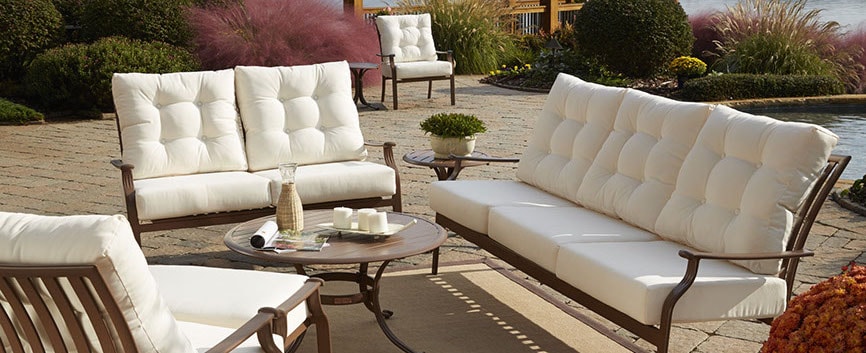 Metal is a dependable choice for outdoor furniture. It's long lasting and available in a wide range of styles, from classic and traditional to sleek and modern.
Aluminum
Aluminum patio furniture is a popular choice when designing outdoor spaces. It's affordable, doesn't rust or fade, and is lightweight. Additionally, aluminum can stand up to harsh weather conditions. Look for powder coating, which gives a protective layer and provides some barrier when furniture gets hot in the summer sun. For the best quality, look for rustproof hardware, seamless welds, and UV-resistant finishes.
There are three different types of aluminum patio furniture:
Cast aluminum is created by pouring aluminum into molds. This method allows for more intricate designs than extruded aluminum but is lighter than wrought iron.
Extruded aluminum means the metal is forced through a die, producing a lighter and less cumbersome product than cast aluminum. Frames are tubular and often feature strap or sling seats.
Wrought aluminum is manipulated into shape, rather than being poured into a mold. It's heavier than other aluminum types, making it extremely durable.
Care: Aluminum requires very little maintenance. Simply wash with mild soap and water, avoiding abrasive cleaners or power washers. You can use mineral oil or car wax to add extra protection, but it's not necessary.
---
PRO TIP
Plan ahead! It's likely your aluminum patio furniture will outlast your cushions, so choose a standard cushion style or shape to make finding replacement cushions easy.
---
Steel
Looking for a sophisticated, modern design for your outdoor space? Steel may be the perfect choice. It's heavier than aluminum, but lighter than iron. Like most metals, it can become hot in direct sunlight, so cushions are a must.
Care: Stainless steel is rust proof, so upkeep is minimal. Occasionally wash with mild soap and rinse with water.
Wrought Iron
Wrought iron patio furniture ranges from traditional scrollwork to more contemporary designs and finishes. Since it's the heaviest of all metal furniture, wrought iron is ideal for windy climates, but difficult to move. Pair with cushions that tie to the seat for comfort.
Care: Wash occasionally with mild soap and rinse with water. Wrought iron is rust-resistant but not rust-free, so it may require occasional paint touch-ups. To minimize rust, store inside during winter.
---
Wood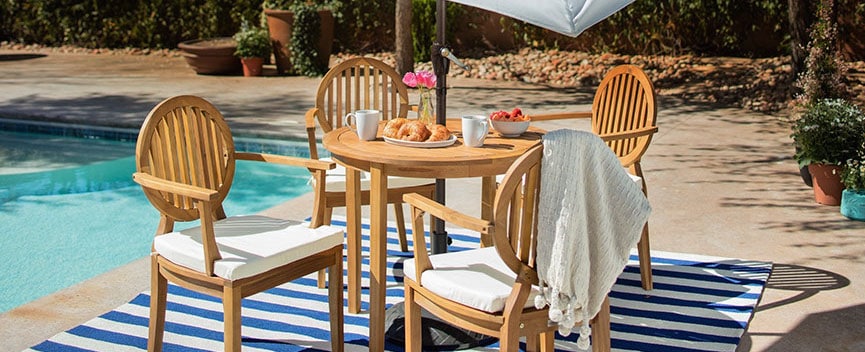 Wood furniture requires more maintenance to protect it from the elements, but it is sturdy and usually doesn't get overly hot in direct sunlight. Outdoor wood furniture comes in a variety of styles, from classic Adirondack and Shaker designs to pieces with a shiny finish for a sleek, polished look.
Teak
Teak furniture is king of the patio furniture jungle. One of the hardest woods available, teak resists warping and is naturally impervious to water, rot, and insect damage. Protected by the wood's natural oils, this wood does not require staining or painting, making it a low-maintenance option. Teak grows slowly, making it more expensive than other woods. But with a 100-year durability rating, you'd be hard-pressed to find a more durable choice for patio furniture.
Caring for Teak Furniture
Cleaning
Cleaning teak regularly will minimize discoloration and prevent mildew. An effective and easy solution is 2/3 cup of dish detergent and 1/4 cup of bleach in 1 gallon of warm water. Clean gently with soft bristle brush. Rinse thoroughly and allow to dry. Tough stains may require a store-bought teak cleaner.

Oiling
Oiling teak furniture enhances the natural, golden honey tone of the wood. If left untreated, teak will age to a soft gray shade. Tung oil is generally recommended, but linseed oil will do the trick. Some oils are specialized for teak that contain additives such as UV blockers and mildew retardants. Oil every two to three months, making sure the furniture is clean and dry before application.
Cedar
As a soft wood, cedar will show wear from the elements more easily and require more upkeep than a hardwood. Cedar furniture will age to a gray finish unless sealed or painted, but its natural oils repel insects, bacteria, and fungi, making patio furniture resistant to decay.
Eucalyptus
A versatile hardwood, eucalyptus is resistant to rot and moisture damage and can last almost as long as teak if treated with water-based acrylic sealant. Eucalyptus is a renewable resource that is sustainably harvested and in plentiful supply, offering an earth-friendly and budget-friendly alternative to teak.
Acacia
Due to its durability, smooth finish, and rich shades, acacia is a desirable wood for outdoor furniture. A fast-growing hardwood, acacia holds up well against the elements and provides a less expensive option for the savings-savvy shopper.
Care: Clean your outdoor wood furniture of dirt, tree sap, and other grime with mild, soapy water. Rinse well with a garden hose and allow to air dry. When wood is completely dry, apply a wood-specific waterproofing formula using a dry cloth. During rainy weather, protect against excessive moisture with patio furniture covers. Whenever possible, store covered furniture in a garage or shed during the winter season.
---
Rattan and Wicker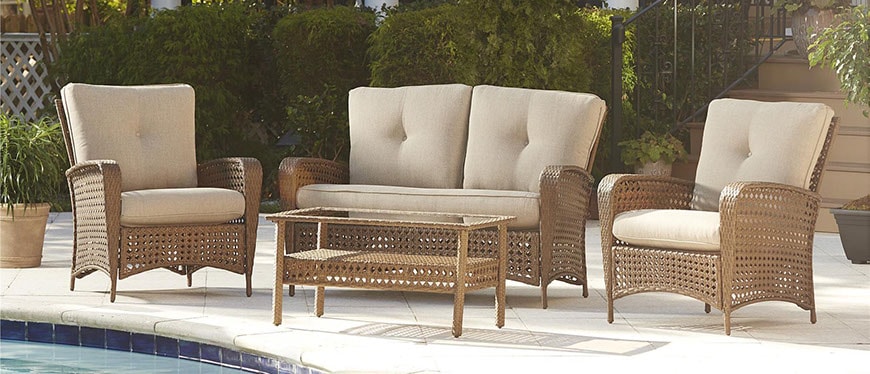 The terms rattan and wicker are sometimes used interchangeably, but they actually describe different things. Rattan is the natural vine often used to make the furniture, while wicker is the weaving technique used for centuries. The weave makes for lightweight, comfortable furniture that can be used outdoors or indoors for a country or coastal look.
Natural Wicker
is usually made of rattan, but may also be made of other natural materials such as bamboo, willow, or reed. While some natural wicker furniture has been treated with UV inhibitors, natural wicker is susceptible to the elements and can fade in the sun.
All-weather Wicker
looks similar to natural wicker, but its use and care are vastly different. All-weather wicker is made by wrapping an aluminum frame with a weave of synthetic fibers coated with a weather-resistant finish. It can be exposed to rain and harsh elements with no ill effects, and it is resistant to fading. Basically, it's the ultimate in outdoor style and durability.
Care: Dirt and grime can break down your natural wicker fibers more quickly; cleaning your wicker furniture often will extend its life. Clean regularly with the soft brush attachment on your vacuum cleaner and wipe away spills immediately. Wash with mild detergent and rinse with water, allowing to dry completely before using or storing. Natural wicker may require additional weatherproofing every few years. Shield wicker from direct sunlight whenever possible, and store it in a protected area during inclement weather. For all-weather wicker furniture, simply clean with mild detergent and rinse with a hose. Easy!
---
Synthetics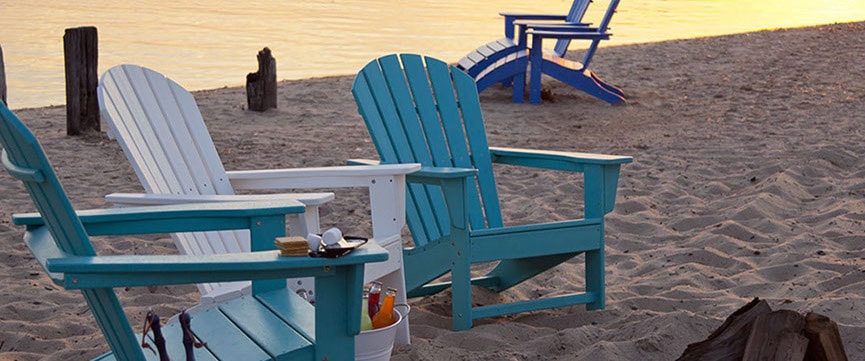 Synthetic outdoor furniture is an affordable way to furnish your outdoor space. It comes in bright colors and bold designs as well as a wide range of styles. Plus it's lightweight and easy to maintain.
Plastic
Plastic patio furniture is inexpensive, durable, and lightweight, making it a snap to stack or move. It can be molded into a variety of shapes and is available in an array of colors, which will never need repainting.
Polywood
Polywood furniture is the new kid on the block in the outdoor furniture scene, but it's quickly growing in popularity. This eco-friendly option is made of recycled plastic, but comes in a faux wood grain finish. It's weather friendly and fade- and rot-resistant.
Care: Use a mild cleaner that prevents mildew and rinse with water. Dry thoroughly before storing.
---
Key Outdoor Furniture Pieces

You can create an outdoor oasis no matter the size of your space. Purchase a complete set, or create a perfect custom combination from these key patio furniture pieces.
---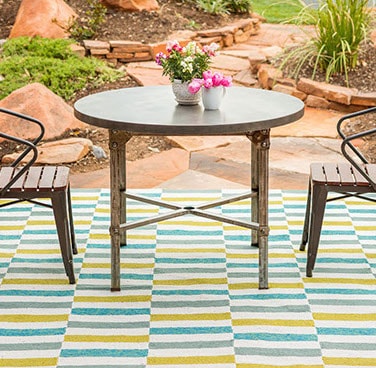 Table
Whether you want to host a dinner party, create a calm sanctuary for morning coffee, or have an outdoor place for games and projects, a patio table is a must! Since tables are available in a variety of materials, you can find one that best suits your climate and your style. Outdoor tables come in all sizes, as well as expandable options to accommodate that surprise dinner guest.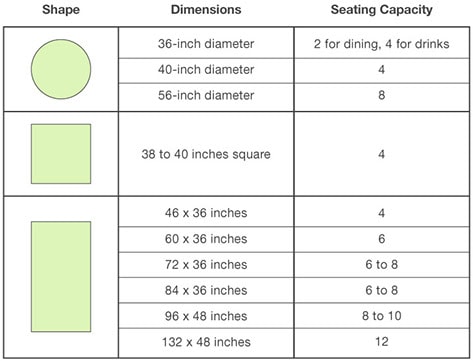 ---
PRO TIP
Allowing 18 to 24 inches per guest means greater ease (and fewer spills from clumsy elbows) when dining. Ideally, there should be between 6 and 12 inches between place settings.
---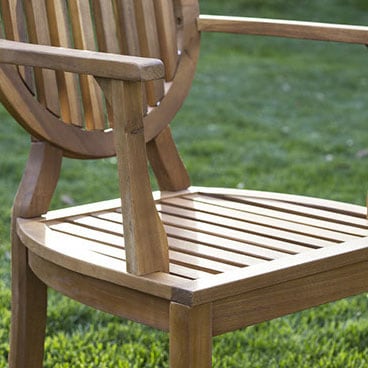 Chair
Patio chairs come in a wide range of sizes, colors, and materials. For dining, choose chairs with flat seats and straight backs. For ultimate relaxing, an aluminum chair with an overstuffed cushion is super comfy and perfect for lounging. For a classic style that complements nature, an Adirondack is a great chair choice that can handle the elements. If you have limited storage, remember to look for patio chairs that stack easily.
---
PRO TIP
Dining tables are 28 to 30 inches tall, so the ideal height of your patio chairs should be between 18 and 20 inches from the ground to the top of your seat.
---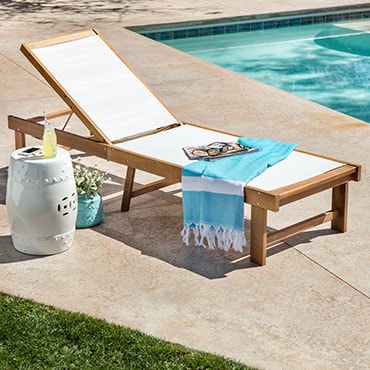 Chaise Lounge
While a chaise lounge may bring to mind sunbathing next to the pool, its appeal extends to the porch or any outdoor space. Long enough for you to fully stretch out on, it's the ultimate patio indulgence. While available in a variety of materials, an upholstered chaise lounge will be the most comfortable (but also the most expensive). If you have your chaise next to the pool, make sure to buy cushions in a waterproof, light-colored fabric to keep you cool while you catch some rays. A folding chaise makes storage easy in the off-season.
---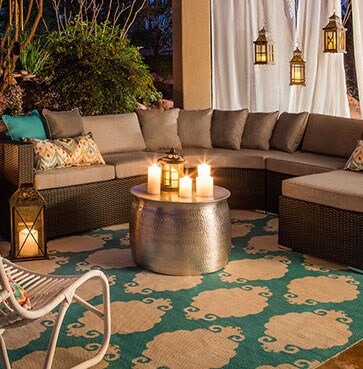 Sofas, Loveseats, and Sectionals
Extend your indoor living to your outdoor space with a full-size sofa, loveseat, or sectional. Materials like aluminum or all-weather wicker will withstand the elements, and weatherproof cushions are both functional and comfortable. With styles ranging from Victorian to modern, it's possible to echo your indoor design style in your outdoor space.
---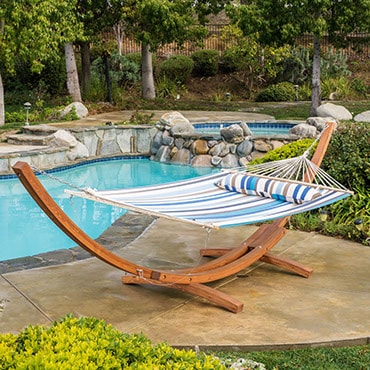 Hammock and Hanging Chairs
A gentle, swaying hammock is the perfect spot to nap, unwind, or enjoy the breeze. No trees? Don't despair! A sturdy stand can support your hammock and offer mobility. Rope is a classic material for hammocks. Cotton rope is more comfortable against the skin than polyester rope, but cotton is more likely to fade in the sun. A fabric hammock offers maximum comfort for lounging, but it's important to compare your options. Cotton is soft and breathable, but it's not weatherproof and colors can fade. This fabric is also prone to mildew, so it shouldn't be left outside in bad weather. Polyester can be soft like cotton and is durable and weather-resistant, but it does not have the breathability of cotton. Hammock chairs are a good alternative to a full-size hammock, as they only require one point of support and work well in tight spaces.
---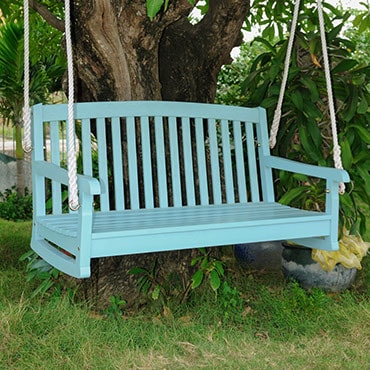 Swing
A porch swing promotes a friendly, neighborly feeling and is a cozy place to read, relax, or sip coffee. For a traditional feel that never goes out of style, a wooden porch swing is just the ticket. If you live in a high-moisture climate, you will need to waterproof a wooden swing to protect against the elements. For a vintage vibe, consider an iron swing. With its elegant scrollwork, an iron swing is old-fashioned with a touch of whimsy.
---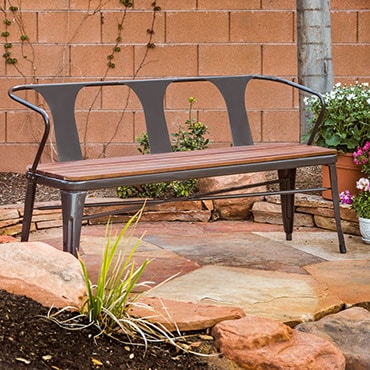 Benches
Outdoor benches provide charm and functionality to your outdoor space. A bench can be used in place of chairs at your patio dining table or put against a wall for additional seating. And they can be multi-functional— you can store cushions and odds and ends while also offering extra seating for outdoor gatherings.
---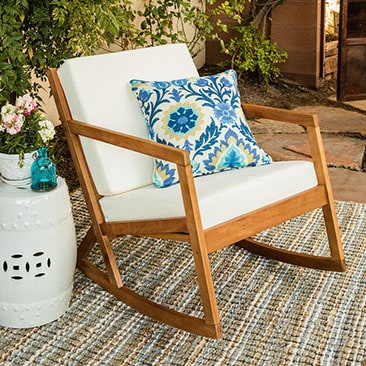 Rocking Chairs
Rocking chairs evoke southern charm and hospitality. They are available in materials to suit any climate, including wicker, several wood varieties, and aluminum. If you get a lot of rain or snow in your area, wooden rocking chairs will need to be weatherproofed or stored inside during the winter.
---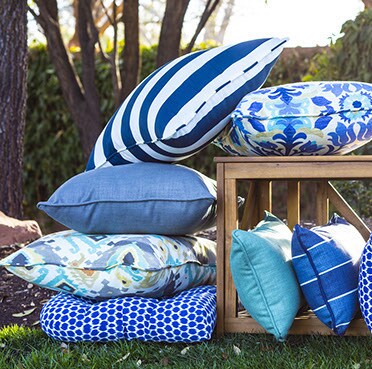 Cushions
Cushions are an inexpensive way to update your look or add new life to an older patio set. Designs or patterns are a good way to incorporate a specific tone or theme in your design. Stripes in red and white can give your area a nautical look, while black and white stripes offer a high-end cabana feeling. Tropical prints evoke an island vibe, while toile is reminiscent of vintage style. Chair cushions usually come in two styles: one piece that covers the seat and back of the chair, or two separate pieces that can be tied to the chair. If you have benches or armless chairs, you'll only need seat cushions. When buying cushions, look for materials that are washable, waterproof, and mildew- and fade-resistant. Quality and cost will vary depending on fabric, so buy the best you can afford for maximum value and durability.
Which Outdoor Fabric Works For You?
---
GOOD
Polyester
Fabric made with polyester is the most economical, but it's the least colorfast and does not weather well. It's not ideal for any area exposed to direct sunlight, as it will fade unless treated with a UV-protectant. Polyester cushions should be used and stored away from the elements if at all possible.
Care: Hand wash with mild detergent and hang to dry.
---
BETTER
Olefin
A synthetic fiber, olefin is derived from polypropylene or polyethylene and is often used with other fibers to create durable outdoor fabric blends. It is a strong, quick-drying, stain- and mildew-resistant material that performs well outdoors.
Care: Spot clean as needed. Machine wash on the gentle cycle with mild detergent and hang to dry.
---
BEST
Solution-Dyed Acrylic
The preferred fabric for outdoor use is 100%, solution-dyed acrylic, such as Sunbrella®. Color is infused into the fabric rather than printed on the surface. This means that fading is almost nil. Solution-dyed acrylic is water-, stain-, and mildew-resistant — plus it's treated with UV inhibitors.
Care: Blot (don't rub) liquid spills with a clean, dry cloth. Spray on a mild cleaning solution of soap and water. Rinse thoroughly with water to remove all soap residue. Air dry.
---