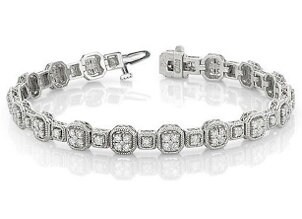 Although the tennis bracelet has evolved along with the rest of fashion over the last two decades, its original design as a basic row of diamonds is still popular today. Diamond bracelets such as the tennis bracelet are one of the most coveted pieces of jewelry. With diamonds or other small stones set in a symmetrical pattern around the entire perimeter of the bracelet, this versatile piece of jewelry will flatter a casual outfit or accent a formal dress.
Tennis Bracelets:

Origin: The tennis bracelet earned its name when professional tennis player Chris Evert stopped a tennis match in 1987 to look for her diamonds after the clasp on her diamond bracelet broke. The incident sparked interest in this symmetrical, elegant bracelet, and it has been popular with women and girls since.

Design: The classic diamond tennis bracelet design is a row of same-size diamonds set in individual, four-prong settings of high-quality metal. Today, tennis bracelets come in many diamond jewelry styles, including those with intricate metalwork, multiple rows of diamonds or gemstones and those with diamonds of all shapes and sizes. The stone settings may be continuous, making the bracelet appear to be made totally of diamonds, or the diamonds may rest farther apart, interspersed with links of silver, platinum or gold. Choose the gold or silver bracelet that will go well with your fashion and lifestyle.

Contemporary tennis bracelets: Today's tennis bracelet is still based around diamonds, but it often contains other types, sizes and shapes of stones. Many women add their birthstone to a diamond tennis bracelet for a piece of diamond jewelry that is personal. Tennis bracelets made from semiprecious stones are affordable and are favorite gifts for teenagers and young girls. Silver bracelets made from cubic zirconias and rhinestones offer women and girls with limited budgets the chance to accessorize with this classic style.

Clasps: Diamond tennis bracelets and bracelets made with other precious stones and metals are often fitted with special clasps to keep the bracelet secure. When shopping for tennis bracelets, consider the clasps carefully. Some tennis bracelets do not have clasps and are made to stretch or slide over the wrist instead.

Sizing: It's important to get a good fit when shopping for tennis bracelets. Tennis bracelets that are too loose may snag, while those that are too tight can chafe or stretch. When selecting a diamond tennis bracelet, consider measurements and sizing guides to choose one that will fit perfectly.

Buy Diamond Bracelets
Back to Guides Directory