Telephone Buying Guide
by Staff Writer
While phones are nothing new, refined telephone designs and new options are always being added. Today's corded and cordless telephones feature advanced tools and enhancements that help you manage calls and messages easily. This telephone buying guide explores the most common options and features, so you can find the perfect phones for home or the office.
Buying a Telephone: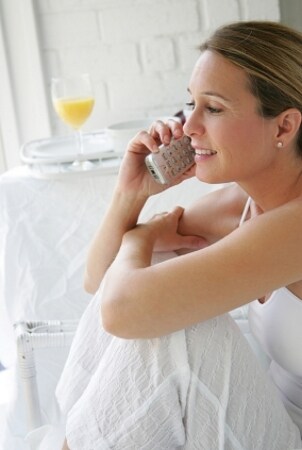 Shop Telephones ▸
Corded phones:

Corded phones are low-maintenance. There are no batteries to worry about with a corded telephone, and you won't ever have to search for the handset. A corded phone won't pick up annoying wireless interference, either. Most offices use corded phones because employees spend most of their time at a desk and because corded phones are such a great value. It's also much easier to fit additional controls on a corded telephone console than on a cordless handset.

Multi-line phones:

Most of today's corded phones accept two or more lines. Often, multi-line phones also allow for conference calling. Look for small LCD screens and other features that make it easy to see which line you are using or when you have a call coming in on the other line.

Cordless phones:

Cordless phones operate on radio waves sent between the handset and the docking station. Many other consumer electronics also operate on radio waves, which can interfere with a phone call if something is operating on or near the same frequency as the phone. You won't need to worry about interference as much with newer cordless phones; they operate in either 2.4 GHz (gigahertz) or 5.8 GHz frequencies, which are dedicated specifically for telephones.
Reducing Interference
If you have other frequently used electronic devices in your home or office which run on frequencies close to 2.4GHz, you may want to check out the 5.8 GHz cordless phones.
A telephone that uses digitals spread spectrum (DSS) automatically spreads the signal over various frequencies, which reduces interference from other wireless devices.
Multi-handset cordless phones:

Some cordless telephones have multiple handsets. These multi-handset phones come with a single base, which holds and charges one or more handsets. The telephone base will often house an answering machine and other features, too. Often, each handset will have its own charger. This allows you to place a cordless handset in every room without each telephone charging base needing its own landline connection.

Programmable contacts:

Many office telephones and cordless handsets have built-in contact lists which you can program with names and numbers for your family, friends and acquaintances. Check to see how much memory the phone has as well as how many contacts can be stored. You may also be able to expand the memory of your telephone by inserting a memory card.

Wall-mounted telephones:

Most phones include some kind of mounting bracket, which allows you to mount the telephone or the charging station on a wall. Usually, all you need is a few screws and a screwdriver to attach the telephone base to a wall stud. Be sure to check telephones for a wall-mount option if you plan on having the phone on a wall.
Ideas from Overstock.com
Talk hands-free with a telephone headset from Overstock.com's electronics store. Look through our selection of telephones and accessories to find handy headsets for both cordless and corded phones. We'll help you save money on a basic headset for your home phone or several professional headsets for the office.
If you're switching from landlines to wireless or you just need a new mobile handset, explore our great deals on the latest cell phones. You can save big on a simple talk-and-text phone or upgrade to a smartphone with a touch screen and the latest operating system.