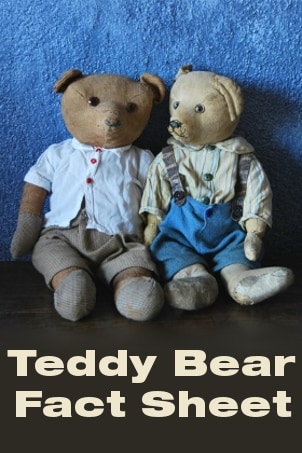 SHOP STUFFED TOYS NOW >>
In the early 20th century, tales of a presidential hunting trip fueled the fire for a worldwide teddy bear craze. The toy was created by a New York shopkeeper making light of President Theodore Roosevelt's failed bear hunt. The toy has evolved into an icon recognized and loved by people of all ages around the globe. Teddy bears and other stuffed toys have become a toy that children bond with and collectors can't get enough of. Learn more to see why these toys are loved by kids and collectors alike.
All about Teddy Bears:

Features: Teddy bears are usually made from soft plush fabric and range in size from miniature to human size. They are designed to sit in an upright position, showing off their tummy, unlike real bears, which spend most of their time on all four legs. Movable arms, legs, and swivel heads are common features. Some teddy bears have lighted features, an internal talk box, or decorative clothes.

The legend: Former President Theodore "Teddy" Roosevelt is affiliated with the creation of the beloved toy. Supposedly, in 1902, Roosevelt went on a four-day hunting trip in Mississippi. When the accomplished hunter failed to shoot a single bear, members of his party caught a bear cub. They tied the cub to a tree and offered it to Roosevelt, but the president spared the bear's life.

American toy makers: New York store owners Morris and Rose Michtom took note of a political cartoon drawn by Clifford Berryman in the "Washington Post" documenting Roosevelt's encounter with the tethered bear. The couple posted the cartoon in their shop window with a handmade stuffed bear labeled "Teddy's Bear." Passersby were soon requesting their own cuddly toy, which led to the formation of Ideal Novelty and Toy Co.

German roots: German seamstress Margarete Steiff added a soft plush toy bear to her toy factory catalog around the same time Roosevelt's hunting story became popular. In 1903, she sold 3,000 teddy bear toys to customers in the United States. Steiff went on to sell millions of the bears to customers in the United States, Germany, and Britain until World War I.

Manufacturers: Several manufacturers cashed in on the popularity of the stuffed teddy bear. The Columbia Teddy Bear Co. fashioned a toy after the president himself, complete with an opening mouth and large teeth. It was known as the Laughing Roosevelt Bear. Mechanical bears were made by Bing. Miniature teddy bears were manufactured by Schuco. Dean's started making plush teddy bears in 1915. In 1930, Merrythought went into teddy bear production.

Shop Stuffed Toys
Shop Baby Toys
Shop All Toys
See All Guides
Read More Toy & Hobby Guides
Learn More about Collectibles