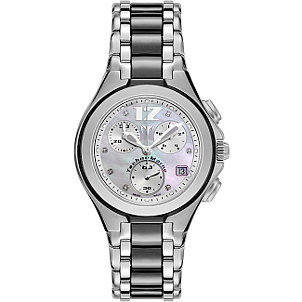 When you want a sports watch infused with the luxury of diamonds, check out TechnoMarine watches. Founded in the resort town of St. Tropez, TechnoMarine watches are inspired by the essence and opulence of the world's best beaches. For a watch with the functionality of a sports watch that is made to be worn as a stand-out accessory, try a TechnoMarine watch on for size. Keep reading for useful TechnoMarine watch quick facts and information about the brand.
TechnoMarine Watch Facts:

Silicone TechnoMarine watches come with interchangeable straps. Featuring gel bands in various colors, TechnoMarine watches are known for their interchangeable straps that let you easily mix and match based on your outfit. Sleek TechnoMarine watches can be worn daily and are a fashion-conscious option whether you live on the beach or in the big city.

TechnoMarine watches have expanded to include more cutting-edge styles. The addition of solid stainless steel and ceramic watches means you'll be able to find the right TechnoMarine watch, whether you prefer colorful silicone straps or something more subdued. Stainless steel and ceramic TechnoMarine watches feature the same water-resistance as original TechnoMarine watches, in a style that you can easily wear to work or for dressier occasions.

Luxury diving watches are TechnoMarine's specialty. Although they have water-resistance ratings up to 300 meters/1000 feet, TechnoMarine diving watches aren't strictly functional. The brand boasts more than 110 distinct diamond watch styles that are currently being sold on six continents.

TechnoMarine was the first brand to ever put diamonds on a diving chronograph watch. TechnoMarine made a name for itself when it first began putting diamonds on men's and women's diving watches in 1999. They transformed standard chronograph watches from simple to fabulous with the addition of hand-picked diamonds set in a stainless steel bezel.

TechnoMarine watches are made using organic materials. These watches are more than just instruments to tell time, TechnoMarine watches also use the essence of water in their design process to create watches that reflect the brand's bond to nature. TechnoMarine watches also use organic materials in many watch bands to reduce their carbon footprint and perpetuate a deep connection with the earth.

Buy TechnoMarine Watches
Back to Guides Directory