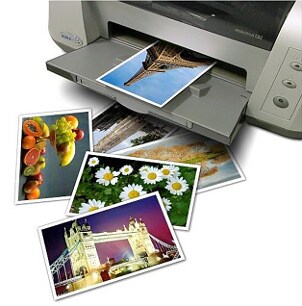 It's not always practical to connect your laptop or wireless devices to your printer, or transfer files to your desktop and print them from there. But with printers connected to your home wireless network, you can easily access your printer from anywhere in the house. Here are some different options for setting up wireless printing with one or more printers on your network.
Wireless Printer Sharing:

Choose a wireless printer. Computer printers keep getting smarter, which means they often include useful built-in features like Wi-Fi or Bluetooth connectivity. Wireless printers don't require any connector cables, just a power cord. Once your printer is set up, it will show up on your wireless network where computers and other devices can connect and send print jobs.

Connect to a wireless router. A non-wireless printer can connect to your network through your wireless router, usually through a USB connection. Not all routers have a USB port, though. Your printer might also connect through an Ethernet connection, which is nearly universal on all routers. Be sure to check both your router and your printer for compatible connections.

Add a wireless print server. A print server accepts incoming print jobs coming from the network. It will connect to your computer by USB or Ethernet, and to the wireless network through a regular Wi-Fi signal. A print server is useful for connecting multiple printers to your wireless router or computer.

Share your printer through your computer. If none of the options above are practical for your printer, you can always connect printers to your computer in the usual way and turn on printer sharing options through your operating system. Different printer sharing settings allow you to customize the options which other users on your network have when working with one or more printers connected to your main computer. This setup is ideal if you have your printer connected to your desktop computer. Laptops and wireless devices can then access the printer through an ad-hoc network. Printer sharing is handled differently on each operating system, so you'll need to look up options for printers in the help menu.

Buy Printers
Back to Guides Directory