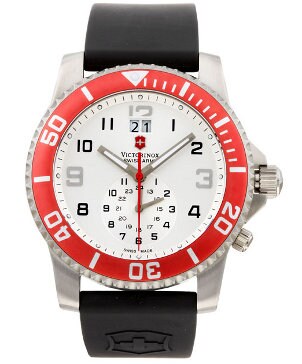 Victorinox manufactures Swiss Army knives, compact camping tools and sport watches. Swiss Army watches incorporate rugged materials and construction, making them perfect for anyone who loves the outdoors or wants a truly functional watch. Men's Swiss Army watches and women's Swiss Army watches are available in many styles, including sport watches, dress watches and unique unisex wristwatches. Learn about the Swiss Army brand and their wide variety of men's watches and women's watches before purchasing your Swiss Army watch.
All about Swiss Army Watches:

History: The two Swiss companies Victorinox and Wenger were established toward the end of the 19th century and produced Swiss Army cutlery. In 1988, Wenger began manufacturing rugged, stylish men's watches and women's watches for the discerning customer and wristwatch collector. Victorinox acquired Wenger in 2005 and has been producing men's Swiss Army watches and women's Swiss Army watches with quality in mind since that time.

Early watches: Early Swiss Army watches contained quartz movements and were inexpensive, durable and utilitarian. Swiss Army was already a household name due to their popular Swiss Army knives, and the watch brand capitalized on the brand's popularity. Following the acquisition of Wenger, Victorinox focused on adding upscale dress watches to the collection.

Military style: Victorinox's Swiss Army Night Vision II military-style quartz watch typifies the watchmaker's basic design. It features the iconic logo of the Swiss cross against a red shield on a round, black dial. The Swiss Army Night Vision is water resistant to 50 meters, features a date calendar and has a stainless steel bracelet. A light module provides three different light sources: an LED flashlight, blue LED dial illumination and a red LED multifunction light.

Automatic watches: Swiss Army offers quartz and automatic watches. You might consider an automatic watch for its mechanical quality and low maintenance. Automatic watches never have to be wound, and they don't have a battery; the watch is wound through the motion of the wearer's wrist. Automatic watches are ideal for sports and outdoor enthusiasts because they won't unexpectedly stop running.

Limited editions: Limited edition models were conceived to celebrate Victorinox's 125th anniversary. The Infantry Vintage Chronograph Jubilee Edition was introduced in 2009. The watch features a 44-mm World War II era olive-colored dial to pay homage to the U.S. Army Dodge trucks acquired by the Swiss Army at the end of the war. A separate limited edition line for women was developed in 2009 from the partnership of Swiss Army and Susan G. Komen for the Cure. Ten percent of the proceeds from retail sales go to the Susan G. Komen for the Cure Foundation for breast cancer research.

Pocket watches: Victorinox produces a limited line of pocket and desk alarm watches, including a pocket watch featuring a stainless steel case, mineral glass crystal, second time-zone indicator and chain with a leather pouch.

Buy Men's Swiss Army Watches
Back to Guides Directory