Sweater Buying Guide
by Staff Writer
Comfortable, warm, and stylish, sweaters have been a clothing staple for centuries. This guide will help you better understand this fashion favorite, as well as help you choose the right sweaters for you and your family. Here are some of the basic features you'll find in men's sweaters, women's sweaters, and children's sweaters.
Sweater Styles: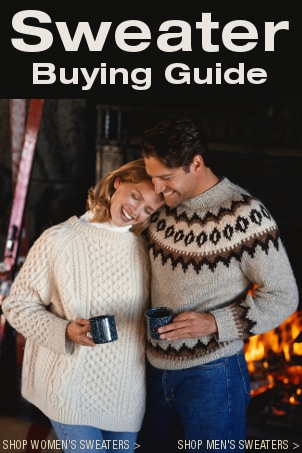 Shop Women's Sweaters ▸
Pullover:

This basic style is the most common type of sweater. Classic and simple, pullovers usually have a crewneck or V-neck and are ideal for layering. Wear a button-down shirt underneath or a blazer overtop to give your wardrobe some versatile style.

Crewneck sweaters:

Worn by both men and women, crewneck sweaters have a round neckline that hits right around the collarbone. These are great for layering during fall and winter.

Cardigans:

These sweaters open down the front, like a jacket, and are usually collarless. Most have long sleeves, though many women's cardigan sweaters feature short or cap sleeves.

Turtleneck:

Perfect for a cold winter day, turtlenecks cover your neck to fend off the cold. Some have a short neck, known as a "mock-neck," while others have a neck long enough to be folded over. Some turtlenecks are knit fairly thin to allow for layering under other sweaters and jackets when it's really cold out, and others are thick and warm enough to be worn alone.

Cowl:

Similar to a turtleneck, a cowl keeps you cozy with extra fabric around the neck, but a cowl is designed with a wider, draping neckline. It's often considered a bit dressier and more feminine than a basic turtleneck and has seen a resurgence of popularity in recent years.

Sweater vests:

These sleeveless styles are generally worn over button-up shirts or fitted T-shirts. V-neck sweater vests are common, and some are even open in front like a cardigan; most come in pullover styles.
Patterns and Knits:
Argyle:

Derived from the Clan Campbell tartan from Argyll, Scotland, this design is created with multiple colors of yarn and is known for its diamond pattern. Diamonds are laid-out in a checker pattern with an overlay of crisscrossed diagonal lines. This popular pattern is usually featured on the front of sweaters in various colors and sizes.

Fair Isle:

Named after the Fair Isle in Scotland, this pattern features a multicolor design knit in the round, creating rows of elaborate patterns. This design is used either for the entire sweater or just a portion of the sweater, such as the shoulders and chest, which is a common version of Fair Isle. Most other horizontally oriented, multicolor patterns are a variation of the basic Fair Isle pattern.

Ribbed:

Created by alternating bands of knitted and purled yarn, the ribbed pattern is extremely popular in sweaters. The benefit of a ribbed sweater is that ribbing not only adds a lot of warmth to it, but also gives the fabric more stretch and movement. This makes ribbed sweaters one of the more comfortable styles.

Cable:

Cable knits use knitting techniques to create textured patterns in the sweater and have become some of the most popular sweater patterns. The most common version is an interlocking braid or chain design, but cables are used to create everything from small sections of texture to large, open honeycomb or diamond motifs.
Sweater Materials:
Wool:

Soft, warm, and natural, wool has been used to create sweaters for centuries. It is still considered one of the best and warmest materials for clothing. There are many different types of wool available, including angora and cashmere, but the most common is sheep wool. Learn more about wool sweaters with our guide on how to care for wool sweaters.

Cashmere:

This specific type of wool comes from Kashmir goats, which are raised mostly in Asia. It is extremely soft and considered one of the most luxurious sweater materials. It takes the wool from several goats to create one sweater, which makes cashmere more expensive than other materials.

Cotton:

For lightweight sweaters, cotton yarn is a popular choice. Cotton is another natural fiber, though it's not as warm as wool. A light cotton sweater is, however, perfect for mild days. One of the main benefits of cotton is that it is easy to care for. Most cotton sweaters are machine washable.

Synthetics:

Fibers like acrylic, nylon, and polyester are synthetically created to mimic natural fibers like wool. While sweaters made from synthetic materials are typically not as warm or durable as wool, they are typically less expensive and easier to care for.

Blends:

Many sweaters feature a blend of materials to use the benefits of each. For example, cashmere is often blended with silk to make the fabric even softer, while wool is often blended with nylon to give it better elasticity. It's also common for natural fibers to be blended with synthetics, like acrylic, to make them less expensive and easier to care for.