Sunglasses Buying Guide
by Staff Writer
Published April 28, 2010 | Updated June 29, 2015
Although they serve a purpose, sunglasses have become a fashion statement, too. Since protection and style are equally important, you'll want to make sure you choose a pair that helps you with both. This sunglasses buying guide contains information to help you choose the best sunglasses for your face shape and for your eyes.
Determine Your Face Shape: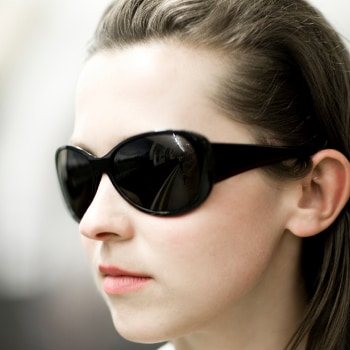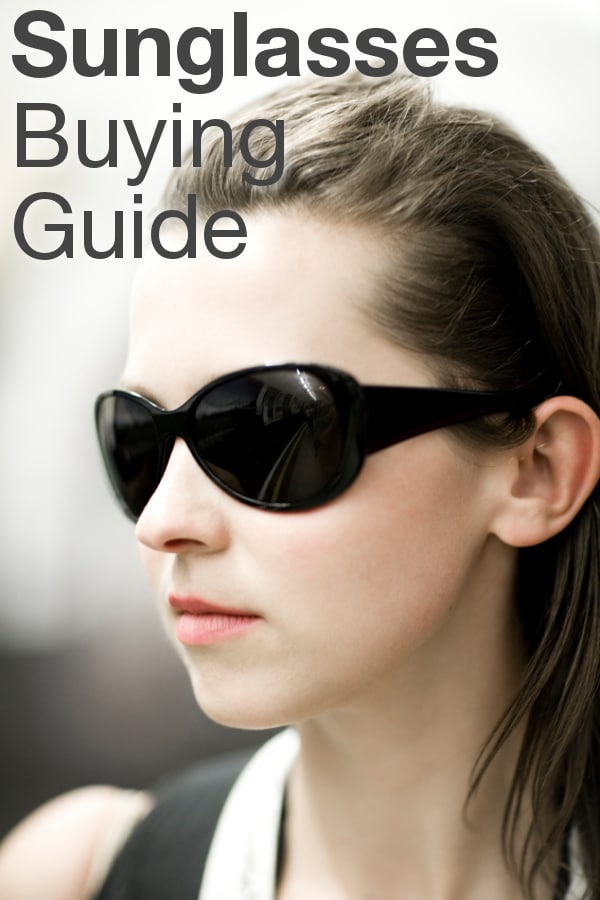 Shop Sunglasses ▸
Square

The square face (in men, usually described as strong-jawed) was epitomized by First Lady Jacqueline Kennedy in the 1960s. Wearing oversized sunglasses, she popularized a style (now often called the Jackie O) which remains in vogue. If you're looking for women's sunglasses, try curvier styles -- round or cat-eye -- to complement your angular features. Men usually want to emphasize a strong-jawed appearance, so men's sunglasses with sharp angles work best.

Triangle or Heart-Shaped

The heart-shaped face in women and the triangular shape in men has a wide forehead and narrow chin. Choose sunglasses with cat-eye frames or any with well-rounded edges; men's sunglasses and women's sunglasses with a wider lower edge and no straight lines along the top work especially well.

Oblong

The long or oblong face also calls for oversized sunglasses. Round or rectangular lenses and sunglasses with thick frames add width; tall or deep lenses and fashion sunglasses with decorative frames or vintage style also work well.

Round

The round face has the most noticeable curves, so the eyewear should have few. Sunglasses with narrow, high-templed or colorful frames, including classic tortoiseshell sunglasses, also add definition.

Oval

The oval face has gently rounded curves that work with virtually any style, from sport sunglasses to designer sunglasses. Choose sunglasses that cover the face from the eyebrows to the cheekbones.

Buying Sunglasses:

Pick Your Style

Designer sunglasses feature the trendiest styles and the highest quality. Fashion sunglasses also feature designer styling -- without the brand-name price. While their primary purpose is eye protection, sport sunglasses can be very stylish. In fact, a pair of protective sunglasses became fashionable by accident. Aviator sunglasses were created for the military just prior to World War II, and the glamour of the "ace" included his fashion accessories; those who couldn't fly could still try to look cool in mirrored, tear-drop shaped sunglasses. Today's aviator sunglasses make great accessories for almost any face.

Get the Right Size

For your sunglasses to look good, they need to be the right size. If you're not sure how to measure your face for sunglasses, read our guide on finding flattering sunglasses.

Look for UVA and UVB Protection

The bright light of a cloudless day can be painful and distracting, especially while driving. Fortunately, the amber-colored lenses of recent decades filter out the additional blue light scattered by low-lying clouds, giving drivers a more balanced, clearer view of the road. Polarized sunglasses also help cut down the glare of reflected light. Ultra-violet radiation, known as UVA and UVB, has been shown to be a contributing factor for cataracts and many other eye problems. Look for UV-rated sunglasses, which block at least 70 percent of UVA and 60 percent of UVB light. Some sunglasses block 100 percent of both.

Find Sunglasses That Protect Against Impact

Flying debris ranges from annoying specks of dust to sight-threatening pebbles kicked up by passing cars. The American National Standards Institute (ANSI) is a private organization dedicated to producing quality goods in the United States. For sunglasses, ANSI testing requirements include dropping a 1-inch steel ball on the lens from a height of 4 feet and shooting a quarter-inch ball toward the lens at 150 feet per second. If no part of the lens touches the eye when impacted, the glasses pass the test, and manufacturers may advertise them as ANSI compliant. This is especially useful when choosing sport sunglasses and polarized sunglasses.