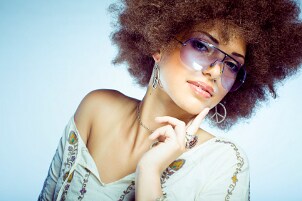 Whether your hairstyle loses volume throughout the day, or one piece just won't behave, you may need a hair pick-me-up. Luckily, with a few tricks up your sleeve and the right styling products, you can easily go from a hair nightmare to a "just walked out of the salon" look. These tips will help you tame your mane, no matter your style or type of hair.
Keep Your Hair Looking Great:

Keep the split ends at bay: Many products available will coat split ends to keep your hair softer and looking healthier. However, the only way to get rid of a split end is to cut it off. Even if you are growing your hair long, make sure you get regular trims to keep split ends to a minimum.

Add volume to hair: For straight hair, separate your hair into three or four sections. Spray each section with volumizing spray, and then roll your hair up with 1-inch to 2-inch Velcro rollers. Blow dry your hair, and then wait until your hair has cooled before removing the curlers. Style your hair as normal. If you have curly hair, separate your hair into four or five sections and curl each section with a curling iron. Finish by gently scrunching in a curl enhancing product. Or, if you are in a rush, simply flip your head upside down, mist hair roots with hair spray or a volumizing spray, and style.

Tame frizzy curls: You'll want to start out with slightly damp hair, so spritz your hair with water from a spray bottle. Then apply a small amount of curl enhancer throughout your hair. Let your hair dry naturally. If you need it dry faster, use a diffuser attachment for your hair dryer. Gently twist sections of your hair and cup them with the diffuser. Hold it still against your head with the heat set to low, and completely dry the roots of each section before moving onto the next.

Make your bangs behave: After washing your hair, make sure you comb your bangs into place before they start to dry. Even if you plan to wrap the rest of your hair in a towel, comb your bangs out first. When you style them, start by applying a small amount of styling product. Then, holding them out from your forehead with a paddle brush, blow dry in the direction you want your bangs to lie. For example, for the side-swept look, blow dry from the side. If you want your bangs to lie flat, blow dry straight down.
What Do You Want to Do Next?

Shop for Styling Products
Shop All Hair Care Products
Shop All Beauty Products
See All Guides
Read More Health and Beauty Guides