Stroller Buying Guide
by Stephanie Petersen
Published April 28, 2010 | Updated February 17, 2015
Choosing your baby stroller comes down to your baby's comfort and your lifestyle. There are a few features that any safe stroller should have: a wide wheel base for stability, safety straps to hold your baby in place, and maneuverable wheels. Beyond that, you should determine what you need your stroller to do and where you need it to go. Do you want a baby stroller that will let you go for a jog or one that you can take shopping? Are you looking for a stroller you can take traveling or would you just like to easily take walks around the neighborhood? If you're planning on having more than one child, you may want a stroller that can hold a baby and a toddler at the same time. Luckily, there are plenty of styles of strollers to choose from to fit your lifestyle.
Which Stroller Suits You?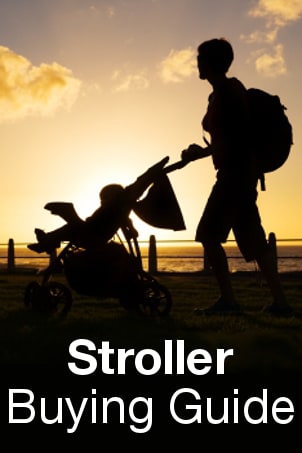 Shop Travel Systems ▸
Standard stroller:

If you're looking for a good stroller for everyday use, you'll want to consider a standard stroller. A standard stroller will weigh about 20 pounds, have a few extra features, such as sun canopies and cup holders, and will be moderately easy to fold up and store. This is a good stroller to have for neighborhood walks and some shopping trips.

Lightweight stroller:

Lightweight strollers are also known as umbrella strollers because they fold up and have a curved handle, just like an umbrella. These baby strollers are the most portable and usually weigh around 15 pounds, and they will have the fewest additional features. Remember that you can't hang a purse or diaper bag on the handle because the weight will tip over a lightweight stroller. Keeping a lightweight stroller in the trunk of your car will give you a convenient stroller for short errands.

Jogging stroller:

These exercise strollers have large, sturdy wheels, shock absorbers, and five-point harnesses. You and your baby will experience a comfortable, maneuverable ride with a jogging stroller. Jogging strollers are usually not easy to fold up and store, so one may require its own parking spot in the garage. If you're looking for a way to get exercise out of the house when you have a baby, then this is a good stroller to have.

Multi-child stroller:

Whether you are expecting twins, triplets (or more), or just a younger sibling, a multi-child stroller will let you take the whole family out on the town. Some multi-child strollers seat the children next to each other; these strollers are easier to fold up but more difficult to maneuver. Others seat the children one behind the other and can be easier for you to steer than the side-by-side models.

Travel systems:

If you need a baby stroller, a car seat, and a carrier, choose a travel system, which will give you all three in one package. The baby carrier attaches to the car-seat base and then pops out to attach to the stroller base. Some parents find the pieces to be rather bulky, while many others find these to be a cost-efficient and simple solution to stocking up on baby gear.

Pram:

If you love the vintage look of a baby carriage, a pram may be the stroller for you. While old prams were heavy, new models are lighter and easier to steer. Prams are an excellent option for newborn babies because it is easy to lay a baby down in a pram. Most have a modern design that allows you to adjust them to sitting positions and change the direction of the handles; this allows you to use it for a longer time.