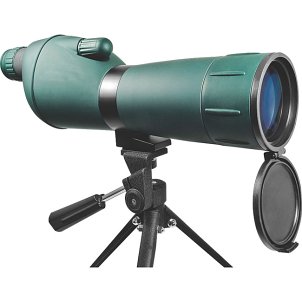 Spotting scopes, sometimes referred to as monoculars, are small, telescope-like optics that began as tools used by the military. Today, they are widely used in the consumer market for hunting, bird watching, viewing ships, scoring shooting range targets and photography. Spotting scopes can mount on a common camera tripod and are quite suitable for daytime use. They provide more magnification than binoculars and are more portable than most telescopes.
Spotting Scope Information:

Spotting scopes provide upright images. One major difference between spotting scopes and telescopes, especially astronomical telescopes, is that a spotting scope always has an upright image and an astronomical telescope may have a reversed or even inverted image, which is not a problem in astronomy but is a huge issue in spotting.

Spotting scopes generally have three numbers to define them. The first two numbers are for the range of optics magnification and the third number indicates the size of the lens. A 15-45x60 scope, for example, has a magnification range of 15x to 45x and a lens size of 60 mm.

Environment affects the scope's effectiveness. When you're using a spotting scope, be aware that atmospheric conditions will affect visibility, especially heat waves, dust, high winds and mist or fog. Low-altitude climates with high humidity do not favor high magnification. Drier, higher altitudes are more favorable for high magnification. As the magnification increases, the image quality decreases. This is more noticeable in inexpensive models.

There are several ways to improve the objective quality. This is accomplished through special glass lenses. Some examples include HD glass, APO glass and Fluorite glass. These cost more but will improve the objective image quality under many conditions.

Eye relief varies among the different models. Something to bear in mind if you will be wearing goggles or glasses is the eye-relief distance of your scope. Eye relief refers to the distance your eye can be from the scope to still have a full field of vision. Most scopes have an eye relief of 14 mm, but if you wear thick glasses, you may need more.

Not all scopes are waterproof. Most of the time, this is not a necessity; however, if a scope is waterproof, it also keeps dust out. On the other hand, many spotting scopes are water-resistant, so it is a good idea to look for this feature when you are shopping for one..

Lenses come in different qualities. They can be fully coated, multicoated or fully multicoated. All premium-grade lenses are fully multicoated. The lens coating can play a large role in light transmission and glare reduction.

You will not be able to "free-hand" aim a spotting scope at high magnification effectively. A tripod or some support will be necessary. There are car window mounts available, and these should work well to stabilize the scope. Heavier scopes will need heavier tripods.

Scopes often require extra equipment. It is important to know when shopping for a spotting scope that some do not include the eyepiece in the listed price. There is also "armor" available for spotting scopes in the form of zippered nylon or canvas covers that stay on the scope to protect the scope's body from scratches and dings.

Buy Spotting Scopes
Back to Guides Directory