Sports Collectibles Buying Guide
by Staff Writer
In the world of collecting, you'll find an enormous variety of collectibles covering every sport, from local pastimes to worldwide sports. This sports collectibles buying guide will help you build some basic knowledge about sports memorabilia and collecting items from your favorite teams.
Buying Sports Collectibles: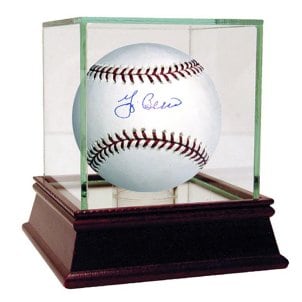 Shop Collectibles ▸
Sports memorabilia:

Sports memorabilia includes anything related to sports, including photos, game-used balls, uniforms, logo accessories and other collectibles. Before you start your collection, think about which types of sports memorabilia you find the most interesting. As you learn more about one particular category of sports collectibles, like baseball cards, you'll discover details about which items are more valuable and the specific features that make them unique.

Trading cards:

Trading cards are simple, inexpensive sports collectibles to begin collecting. New trading cards come in sealed packs, so you don't know which cards will be inside. Buying a new pack of sports cards can be exciting and a bit of a gamble, since you don't know if you'll find any that will fit into your collection. As you collect a whole series, team or your favorite athletes, you'll probably accumulate duplicate cards which you can then trade with other collectors for other cards or sports collectibles.

Bobbleheads:

It's no wonder people love bobbleheads with their funny, oversized nodding heads. You can now find bobbleheads that not only portray athletes, but celebrities, pop culture icons and other characters. These unique sports collectibles were originally made of papier mache, but now most are made of ceramic or plastic. You may want to place few cotton balls inside to prevent bobbling and prolong the life of the spring. Many bobbleheads can be purchased in sports collectibles sets, so you can trade with other collectors.

Diecasts:

Diecasts and replicas are figurines and models of everything from cars to athletes. Made out of die-cast metal, these models are usually heavy and sturdy. Diecasts will have a scale ratio listed with their descriptions which denotes the size of the diecast relative to the size of the item it duplicates. A larger diecast sports collectible will include more detail. Working doors, chrome details or working lights will all make diecasts look more realistic, making them more attractive to other collectors.

Sports plaques:

Sports plaques and framed team photos are often attractive collages of sports memorabilia. You'll find sports plaques of teams, athletes and even historic stadiums. Many sports plaques are limited editions and will be numbered to reflect how many are in the series. These types of sports collectibles increase in value when autographed.

Sports figures:

Sports figures are small models of athletes, crafted by artists to depict historic sports events or action scenes. More statues than toys, these sports collectibles have been crafted to reflect the passion and intensity of your favorite athletes. You can find sports figures of athletes from many different sports, often posed to show how they look in action on the court, field or course. These types of sports collectibles are made out of many different types of materials. You may choose to focus your collection on sports figures made of pewter, ceramic or brightly painted plastic or collect each member of your favorite team.

Sports jerseys:

Sports jerseys and game-used team uniforms make great sports collectibles. You can find new sports jerseys, hats, pants and more that resemble those worn by athletes. These make perfect clothes for everyday casual wear as well as for workout wear. Of course, your collectible is also the perfect jersey to wear on game day. Most teams only use uniforms a few times. Game-used uniforms are available for fans to purchase as valuable sports collectibles. Unique sports collectibles such as these should be kept in a case or framed on a wall.