Sofa Table Buying Guide
by Staff Writer
When you set out to purchase a new sofa table, it's best to think about the basics. By zeroing in on the fundamentals of your living room, like coffee, sofa and end tables, designing your living room will be much easier. A sofa table can add so much to a living room, but with so many options available, you want to make sure you find the right sofa table for you. Consider the size, type of material, style and type of sofa table you seek, and there's no doubt that you will find something that matches your lifestyle ideally.
Buying a Sofa Table: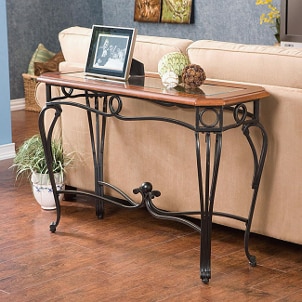 Shop Sofa Tables ▸
Sofa table size:

Before you set your heart on any sofa table, make sure you have measured the couch it will be placed against. If your sofa or loveseat is too short for your new couch table, your seated guests could suffer the occasional knock on the head from a tall tabletop. If it is too wide, it can throw off the dynamic of your home. Make sure that your sofa table will fit comfortably against your couch while still providing room for whatever you decide to place on it, such as lamps, books or vases.

Sofa table types:

Some people use sofa tables as functional pieces of furniture; others use these living room tables for largely decorative purposes. Sofa tables are built in two basic types to cater to many uses. Drawer sofa tables contain several small drawers and resemble a combination of a desk and a side table. A drawer-less sofa table has four legs, a top and possibly a second shelf near its feet.
Sofa Table Materials
Wood:

A massive teak or oak sofa table with tapered legs and rococo claw-foot features can work for those aiming for a rustic look in their home. Cherry and cedar sofa tables provide a feeling of sophistication and class in any room, while dark walnut sofa tables accented with pine offer a certain modern touch.

Metal:

Despite the connotations of heaviness that come with metal, you will find that metal sofa tables can range from dainty finials to sleek pedestals to picnic-style lattice work. An iron sofa table can replicate the style of a Victorian antique with curvy lines. If your home design leans toward the contemporary, a steel sofa table is a fantastic option. To achieve a classic appearance that doesn't look aged, look into brass sofa tables, which will bring a gorgeous shine to your living space.

Glass:

Although glass tends to have a fairly modern feeling, it can still work for a wide array of style plans. For example, glass teamed with iron can create an ultimately classic combination. If you do want a modern sofa table, think all-glass. The most obvious downfall of glass is its innate fragility. Glass sofa tables aren't nearly as tough as their wood and metal counterparts. Fortunately, tempered glass does mean you can find sofa tables made from glass that is relatively durable.
Sofa Table Styles
Traditional:

Couch tables were first produced in the late 1700s, and naturally, the Colonial style in which they were built is still a popular traditional choice. Colonial-style sofa tables are conservatively designed with slight curves, longer legs and, generally, rectangular tops. Another popular traditional choice for couch tables is Victorian style, which is typically more ornate and curvy than Colonial furniture.

Contemporary:

If you want a clean, unobtrusive design, look for couch tables in a minimalist style. Sofa tables in the Art Deco fashion look to the early 20th century as well as the future. The emphasis on geometrical shapes with round tables, trestle tables and squared cocktail tables in Art Deco style can be the basis of some truly unique designs. When choosing a contemporary sofa table, be bold, but don't forget to pick a piece that fits appropriately with the other furniture you already own.

Casual:

If the room you hope to place a sofa table in is more laid-back, you may want to choose something more casual. A country-style table fits in well with a western design scheme. If you enjoy the beauty of the Southwest, there are sofa tables available in such a style. If you want something more uptown than down-home, shabby-chic couch tables are a must. Shabby-chic style has a modern sense of urbanity that's more relaxed than other contemporary furniture.