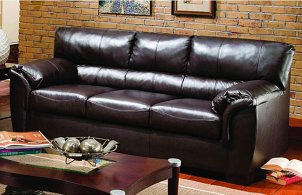 When you're updating your living room furniture, a sofa is always a good choice. The term "sofa" actually dates back to 1625. The word comes from "suffah," an Arabic word, and originally referred to a part of the floor that was raised and decorated with pillows and cushions. Today, sofas and loveseats come in different sizes and styles to fit a wide range of decorating themes. Take a look at this sofa fact sheet to learn more about this essential piece of furniture.
Facts about Sofas:

History: In the Ottoman Empire, the suffah served as the dais, or raised platform, where the Grand Vizier would sit. The Grand Vizier was the right-hand man of the Sultan, and he answered only to the Sultan himself. The suffah was covered in cushions and fabric for comfort and later evolved into the couch, chaise lounge and other long, cushioned living room furniture that we know today.

Definition: Since 1717, the word sofa has referred to upholstered seating for two or more people. Traditionally, the back of the sofa is higher than the arms. A sofa also tends to be longer than a couch or chaise lounge, although this is not always the case.

Types of sofas: Sofas are often defined by the style of their backs. Tight back, attached pillow, loose pillow and multi-pillow are four of the most common types of sofa backs. The terms refer to the pillows or cushions that adorn a sofa's back seating surface. Another popular way to identify types of sofas is by their shape or movement. A sectional sofa, for example, is a great option for filling large living rooms or fitting the most seating in a smaller room if the L-shaped couch fits perfectly in a corner. A reclining sofa usually has reclining backs and pop-up foot rests for the two seats on the end of the sofa.

Sofa designs: In addition to the backs of the sofas, the skirt, arm, and bottom can also differ. Dressmaker, box-pleat and kick-pleat styles of skirts are among the most popular. Sofa arms come in three different styles: roll arm, Charles of London and tuxedo arm. Plinth base or upholstered foot styles of sofa bases can also be chosen. A sectional sofa is generally fancier than a reclining sofa because it doesn't have moving parts.

Sofa sleeper consideration: Another option with a sofa is to purchase a sofa bed. This furniture looks like a normal sofa but has a part that can be pulled out to form a larger sleeping area. Sleeper sofas contain metal frames, making them heavier than regular sofas. For this reason, sofa beds can be harder to move around than other sofas; however, they can be useful for providing additional sleeping options in a home.

Buy Sofas and Loveseats
Back to Guides Directory