Sleeping Bag Buying Guide
by Staff Writer
A good sleeping bag is the most valuable piece of camping gear you can own. Sleeping bags are designed to protect you from feeling cold, yet the purpose of a sleeping bag isn't really to warm you; it's to help maintain your inner body temperature. There are many styles and varieties of sleeping bags available for camping and hiking, making it seem daunting to find the right one. Learning how to buy a sleeping bag isn't as difficult as it can seem, however. This sleeping bag buying guide is designed to help you find the sleeping bags that will best suit your needs, whether you're taking a long backpacking trip or simply pitching a tent in the back yard.
Buying a Sleeping Bag: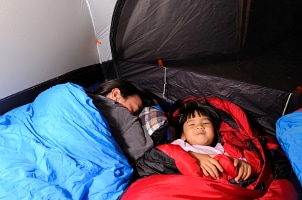 Shop Sleeping Bags ▸
Sleeping bag fill:

The fill of your sleeping bag keeps the bag insulated and warm. Lightweight fill with lots of ear pockets will compress when rolled up and expand when unrolled. Goose down is best known for its insulating properties, and down sleeping bags are very soft and have a great warmth-to-weight ratio. Good down rates about 500 to 800 cubic inches per ounce. Synthetic fill will keep you insulated even while the sleeping bag is wet. Synthetic-fill sleeping bags are also machine washable for convenience.

Sleeping bag styles:

Mummy sleeping bags fit close to the body and resemble an Egyptian mummy case. They hug your shoulders and head, decreasing the amount of heat lost through the bag's opening. The tighter or closer fitting the sleeping bag, the less air needs to be heated. When mummy sleeping bags are fully closed, they should leave only your nose and mouth exposed. Many people prefer a rectangular sleeping bag because they provide more room to wiggle. These sleeping bags are great for camping in warm weather.

Sleeping bag shells:

Sleeping bag shells are made of a variety of materials, all which have different qualities. If you plan to camp in humid regions or as a part of a rafting or canoeing trip you will want a water-resistant shell made of Dryloft or microfiber. For camping in dry areas, look for a sleeping bag shell made of taffeta, nylon or polyester. If you're just sleeping outside with the kids in the back yard, on the trampoline or in the tree house, you can possibly get away with a simple cotton shell.

Sleeping bag linings:

Linings also come in many materials, all with different qualities. Linings can include silk, taffeta, nylon, polyester, cotton or fleece. If you don't like the feel of sliding around in your sleeping bag, go for polyester, cotton or fleece. The choice of linings is based a lot on your personal taste.

Temperature ratings:

Temperature ratings refer to the temperature it can be outside before a sleeping bag is not able to keep you warm. Some sleeping bags also rate the maximum temperature before the bag will keep you too warm. Temperature ratings are shown as temp Celsius/temp Fahrenheit. To be safe, add about 10 degrees Fahrenheit to the sleeping bag's listed temperature rating.

Additional features:

Many sleeping bags come with an array of special features. Certain sleeping bag features will also add to the warmth and comfort of your camping experience. Draft collars and draft tubes help to prevent heat loss through the opening, seams and zippers. Since some of your body's heat loss is through your head, a sleeping bag hood can really keep you warm. Some sleeping bags have pockets to keep personal items close. Ventilation zippers can keep you from getting too hot if you're sleeping in a warm climate. Storage bags, or stuff sacks, protect your sleeping bag while it is not in use and compresses the bag for easy carrying and storage.