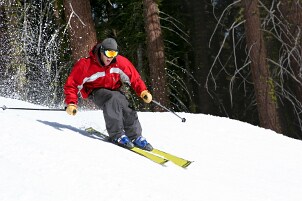 Your active outdoor lifestyle doesn't have to come to a screeching halt when the snow starts flying. It's time to get geared up in ski accessories and hit the slopes. If you're an avid skier, winter is the best time of year for outdoor action. Besides your skis, you will need a few ski accessories to enjoy your snowy adventures. Whether you're a downhill or cross-country skier, you will need to stock up on ski accessories, such as ski poles, ski boots, bindings, helmets, goggles and ski clothing. This ski accessories buying guide will show you how to buy ski accessories that will offer top performance, durability and value for your money.
Ski Accessories:

Ski poles: Ski poles are used to guide a skier's direction and help with balance and weight distribution. Because of their long, thin design and the amount of use they get, ski poles are the most broken and replaced piece of ski equipment. Ski poles come in different lengths and are fitted to a skier based on height. The following chart will aid you in choosing the ski poles that are the proper length.





| Skiers height | Suggested pole length |
| --- | --- |
| Under 3'4 | 32 inches |
| 3'5 to 3'8 | 34 inches |
| 3'9 to 4' | 36 inches |
| 4'1 to 4'4 | 38 inches |
| 4'5 to 4'8 | 40 inches |
| 4'9 to 5' | 42 inches |
| 5'1 to 5'3 | 44 inches |
| 5'4 to 5'6 | 46 inches |
| 5'7 to 5'9 | 48 inches |
| 5'10 to 6' | 50 inches |
| 6'1 to 6'3 | 52 inches |
| 6'4 to 6'6 | 54 inches |
| Over 6'6 | 56 inches |

Ski boots: Ski boots are one of the most important pieces of ski gear to shop for. They transfer your body's movements and shifts in pressure to the skis. Ski boots should fit snugly and yet not restrict the movement of your feet. Beginning skiers should look for more flexible boots to aid with turning, while expert skiers should look for stiffer boots to give them the support they need.

Ski bindings: Step-in bindings are the most common type of ski bindings. They work by clipping onto the ski boots at the heel and the toe. Different ski bindings allow for different types of release (upward or sideways), so be sure you know how to release your bindings before you hit the slopes. This is important in case you tumble or your ski catches on something. The most popular types of bindings have adjustable releases, allowing the skier to select release pressure depending on ski conditions and the skier's abilities.

Ski helmets: Ski helmets have become increasingly popular ski accessories over the past several years. Some ski areas now require ski helmets be worn by skiers; head injuries are one of the most common types of injuries in skiing. Selecting the right helmet will keep you comfortable and safe. Features you'll want to look for include adequate ventilation, sufficient padding and a snug but comfortable fit. Most ski helmets have sizes in centimeters, so when you are online shopping for a ski helmet, you'll need a measuring tape to find your size. Measure your head, about an inch above your eyebrows.

Ski goggles: Ski goggles are necessary because they keep snow and other debris out of your eyes, thus providing an additional measure of safety, and they protect your eyes from the sun's ultraviolet rays which are reflecting off the bright, white snow. Choose ski goggles that are comfortable and compatible with your helmet. They should also have the appropriate tint for the conditions in which you'll be doing most of your skiing. If most of your skiing is done in low light, such as on overcast days or in fog, choose a yellow, amber or gold tint. If you're on the slopes in sunny conditions, darker tints, such as green, will keep your eyes comfortable.

Ski clothing: Having the proper ski clothing for winter sports is critical for having a positive experience. It's hard to have a good time if you're not warm, dry and comfortable. Items to consider when shopping for your skiing wardrobe include ski jackets and pants or a one-piece ski suit, gloves, thermal underwear, ski socks and hats in fleece, wool, silk and other warm, breathable materials. One important rule to remember when dressing for the slopes is to layer your clothing. This provides you the option to adjust your clothing as your activity level changes. Having outerwear that is waterproof and windproof is also important.

Buy Ski Accessories
Back to Guides Directory