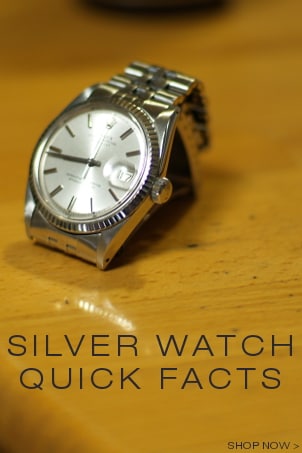 When you think of a luxury watch, a silver watch might not be the first thing that comes to mind, but the luster and simple elegance of silver watches make them something to be desired. From dress watches to collector's watches, silver beautifully showcases any wristwatch's defining characteristics in a subtle manner.
Silver Watch Quick Facts:

Silver is considered a precious metal. You may have heard that silver is a precious metal, but what does that mean? To be considered a precious metal, a chemical element must be rare, naturally occurring, and of high economic value. Gold and silver are generally thought of as the best-known precious metals, both fetching a high price in the jewelry market.

Silver watches have one of the largest price ranges. Silver watches have great versatility and can be produced in a number of different styles. Adding diamonds instantly upgrades a silver watch to luxury watch status, while sterling silver watches are an affordable option that still looks classic. Silver is also considered a great backdrop for stunning accents like sapphires, so no matter what your price range is, you're guaranteed to find a silver watch that fits your budget and your style.

Silver watches are actually harder than gold watches. Silver is slightly harder than gold yet extremely malleable, which means it can be easily worked with to create unique shapes. As a result, silver watches often come in unique styles. If you're still hesitant about switching from gold to silver, look for gold and silver watches that combine both precious metals for a decadent look.

Silver has a reputation for tarnishing, but it can be easily cleaned. Silver is stable in pure air and water, but tarnishes when it is exposed to air or water containing ozone or hydrogen sulfide. If you plan on keeping a silver watch as an heirloom to pass down, you may want to have it regularly cleaned to avoid build-up and tarnishing. It will take several years and many hours of wear before your silver should show signs of age, but to achieve a gleaming look, get your silver watch professionally cleaned every few years.

Shop Men's Watches
Shop Women's Watches
Shop All Watches
See All Guides
Read More Watch Guides
Get More Watch Tips