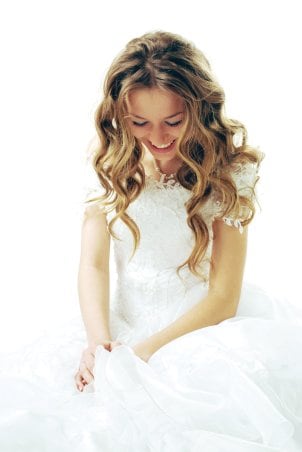 The modern woman is fun, stylish and unique. Shouldn't her wedding band be, too? The slew of new, modern wedding ring styles makes it easy for you to select a hip wedding ring for your bride. Choosing a wedding band is a personal process. You should consider your fiancee's style preferences and current wardrobe before shopping for women's wedding bands. Matching her wedding band to her engagement ring is also important. Use these tip to shop for modern wedding jewelry.
Modern Wedding Bands:

Styles: Traditional women's wedding rings are available in just a few select styles, but modern wedding bands are much more artistic. A wide range of stylish women's wedding bands is available for the contemporary bride. For a new take on the eternity band, which features a uniform row of diamonds, consider diamond scatter bands. Diamond scatter bands are wide rings decorated with a smattering of diamonds in a scatter pattern. Intertwined three-band women's wedding rings are also very fashion-forward.

Stones: White diamonds are traditional embellishments for wedding jewelry, but other stones can be much more contemporary. Colored diamonds add flair to a simple wedding band. Black diamonds are popular for their edgy appearance, and pink diamonds are perfect for the ultra-feminine bride. Precious gemstones, such as blue sapphires, red rubies and green emeralds, are luxurious and eye-catching in any wedding band setting. Semiprecious gemstones offer a unique design feature in modern wedding bands. Choose from blue aquamarines, green or red jade, blue turquoise, purple amethysts and yellow citrines.

Metals: Yellow gold used to be the standard in wedding bands for both men and women, but modern metals are available for a more contemporary style. White gold and platinum are good options because they offer the value of precious metal in the favorite neutral hue. Industrial metals are popular in modern wedding bands. Titanium, stainless steel and tungsten are commonly found in men's wedding bands, but hip women's wedding jewelry is also available in these sleek and durable metals. Titanium is the lightest in weight and color; tungsten is one of the most durable metals on Earth. Stainless steel wedding bands are both durable and affordable.

Buy Wedding Rings
Back to Guides Directory