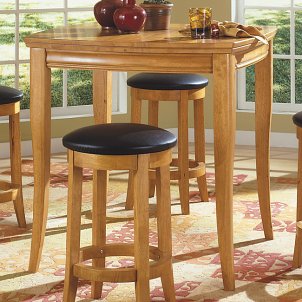 When you are choosing bar tables for your home, you'll want to make sure you're happy with your decision for a long time. Bar tables are perfect pieces of furniture for several rooms in your home, not just your bar. Because it is so flexible, bar furniture takes some consideration before you pick any old pub table to fit your room. Here are a few things to consider before you go shopping for bar furniture.
Choosing a Bar Table:

Modern or traditional: Look around the room in which you are hoping to place your new pub table. Would it look better with modern glass or steel bar tables or traditional wood bar tables? Also, you should consider if you want a pub table fit specifically for this room or if you plan to move it to another location later. If you plan on moving the table around, you'll want to pick out a style and color that can match the decor of any room, such as a black or neutral-colored bar table.

Function: Do you plan to use your bar tables in your bar? Do you plan to use yours like a bistro table? Imagine how you would use your table and pick out features that will make that possible. Some bar tables have retractable columns to make them as short or tall as you need them to be. Some bar tables can even be wheeled around a room, which can come in handy when you're watching the big game or a movie in the family room. Depending on your plan, these extra features could be very important. Also, you'll want to consider how many people you plan to have sit around your bar or bistro table. If you want several stools to fit around it, you need to make sure you have space for both the tables and the stools in the room. If you plan on putting it in a corner, you'll need enough room for someone to sit in the stool without backing into the wall.

Space: Do you only have space for one bar table or would you prefer to pick up several? If you have room for more than one bar table, you should consider getting some bar table sets. A bar table set will usually come with the bar table and some matching bar stools. This way you can pick up as many bar table sets as you like and still maintain a theme that will match your decor.

Buy Bar Tables
Back to Guides Directory