Sheets Buying Guide
by Staff Writer
Published April 28, 2010 | Updated June 25, 2015
Your bedding makes a big difference in the quality of your sleep, and sheets make a big difference in the quality of your bedding. Today, you can buy sheets in a greater number of different fabrics, colors, and sizes than ever before, meaning that it's easier than ever to find sheets that fit your taste and match your other bedding perfectly. It also means that you may need some help narrowing down your selection when you're shopping for sheets. Here's how to buy sheets that suit your needs.
How to Buy the Best Sheets: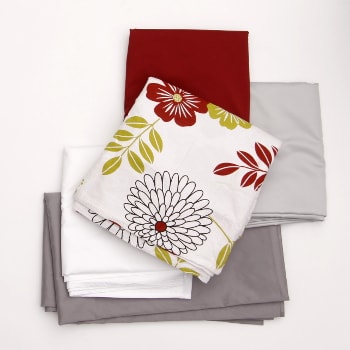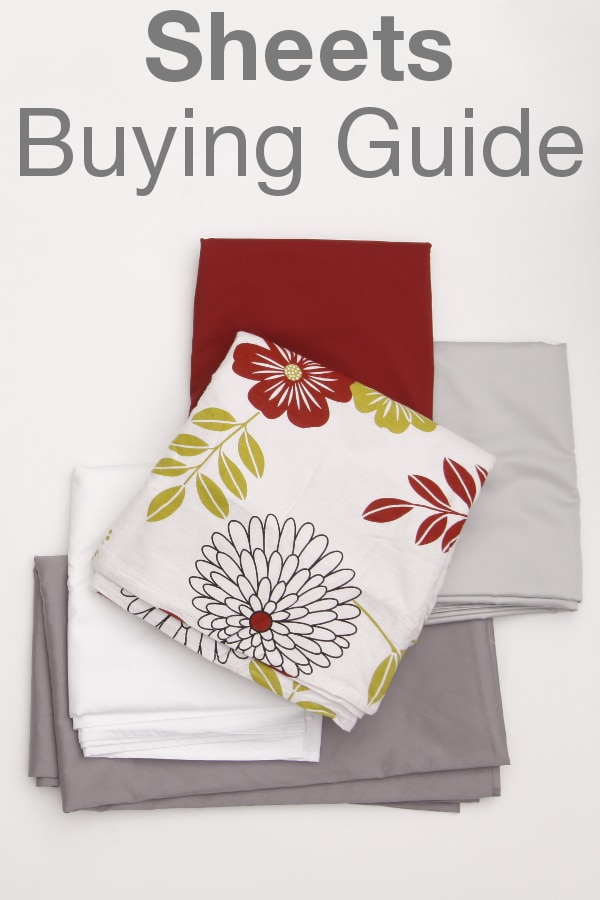 Buy Sheets ▸
Size

It barely needs mentioning that sheets and sheet sets come in the usual twin, full, queen, and king sizes. However, there are a few exceptions to the sizing norm. If you have a pillow-top mattress, you will probably want to buy deep-pocket sheets, which are fitted sheets with extra deep corners designed to fit over thick pillow-top mattresses. If you have a California king-size mattress, be sure to shop for California king-size sheets because standard king-size sheets won't fit your bed.

Thread Count

Thread count is the total number threads that run horizontally and vertically in a square inch of fabric. A higher thread count indicates a tighter weave and lends softness and durability to the material. A thread count of at least 200 makes a comfortable, long lasting sheet. Sheets with a thread count of 300 to 400 are a little nicer yet still affordable. 400 to 900 thread count sheets may cost a little more but are worth it if it's softness you want. Thread counts of 1000 or more make very soft and smooth sheets and are the height of luxury; however, the finer threads necessary to achieve this high thread count often make these types of sheets less durable.

Material

While cotton is still king in the world of sheets, that doesn't mean there aren't other options. If you want a set of cozy sheets for the winter, a couple great options are cotton flannel sheets and microfiber fleece sheets, both of which have a soft, fuzzy finish to keep you warm at night. If you want something extra luxurious, take a look at satin sheets or cotton sateen sheets. Each of these fabrics has a silky, glossy finish that looks and feels wonderful. If you want cotton sheets that are a step up from the norm, you can find high-quality Egyptian cotton sheets, high thread count sheets made from cotton, cotton damask sheets, and even eco-friendly organic cotton sheets.

Weave

Weave creates the texture of the fabric and affects the look and feel of the sheets. Sheets are usually made from either percale weave fabrics or sateen weave fabrics. Percale sheets are woven closely in a kind of basket weave and have no gloss, creating smooth-textured sheets. Sateen sheets are woven with more fibers on the fabric surface, creating a luster like that of satin sheets.

Colors and Patterns

White is a great color and is the most common sheet color. However, if you've never considered buying sheets in any other color or pattern, you may want to think about it. Buying sheets in a color that matches the decor of your room can make a big difference in the aesthetic appeal of your bedding.

Sets or Individuals

Buying sheet sets and buying sheets individually both have advantages. One advantage of buying a sheet set is that it often saves money; you usually pay less for a sheet set than you do for the same items purchased individually. Also, when you buy sheets in a set, you don't have to spend time finding matching items. However, buying sheets, pillowcases, and fitted sheets separately allows you to individualize your bedding. For example, buying items separately is a wise choice if you want to buy a top sheet and a fitted sheet in complementary colors or if you want to try mixing and matching patterns.