Basic Sewing Supplies Buying Guide
by Staff Writer
Whether you're a budding seamstress or just beginning to learn to sew, you may sometimes feel lost in sewing and crafts stores. With so many sewing supplies to choose from, looking for the right tools and fabrics can be a bit overwhelming. This basic Basic Sewing Supplies Buying Guide is designed to give you help with buying sewing supplies for many different crafts, no matter your skill level.
Basic Sewing Supplies: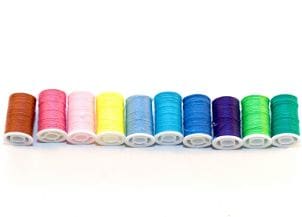 Shop Sewing Supplies ▸
Sewing machine.

This is the most important item to have for sewing. Although you can sew by hand, sewing machines make sewing easy. If you are a beginner, use a basic sewing machine with few extras. If you have a bit of sewing knowledge, look for a sewing machine with more features, but find one that you are comfortable with. Remember, if you buy a cheap, low-quality sewing machine, it will remain a cheap, low quality sewing machine while in use. For more information on sewing machines, read our sewing machine buying guide.

Thread.

You will want to build up a collection of thread for various sewing projects. You can buy it as you go, picking out shades to match your current project, or you can get a thread kit, which will have all of the basic colors of thread you'll need. Thread is made from cotton, polyester, rayon or silk.

Sewing scissors.

You'll need scissors that are dedicated to sewing. Keeping your sewing scissors sharp is easy when you never use those scissors for more than material and thread cutting. Bent-handle scissors are great for cutting patterns, because the angle of the lower blade allows the fabric to lie flat, and they are more comfortable for this position. Buy sewing scissors depending on your hand size; the smaller your hands, the shorter the blade. Left-handed scissors are also available.

Rotary cutter.

If you are embarking into the wonderful world of quilting, a rotary cutter will make cutting large pieces of fabric a lot easier and faster. With your rotary cutter you'll want rulers and mats so that you don't damage your floor or table.

Tape measure.

A flexible plastic or fabric tape measure will help you take accurate measurements and allow you to quickly pin patterns to fabric accurately.

Fusible fabric.

Both light-weight and heavy-weight fusible fabric could be called for in a pattern. Fusible fabric adds stiffness and structure to collars and more.

Sewing patterns.

Sewing patterns will make sewing clothing and crafts easier, especially for a beginner. Make sure that you select patterns in the correct size, and look for one-hour sewing patterns or simplified designs if you're unfamiliar with sewing.

Needles.

For both needlework and sewing machines, you'll need different types of needles. Sharps range in size from 1 (heavy) to 10 (very fine). Betweens are shorter than sharps and are also called quilting needles. Milliner's needles are very long, about 1.625 inches, with small, round eyes. Darning needles range from 1 to 5 (cotton darners) and 14 to 18 (yarn darners). Sewing machine needles have their own size systems: American and European. American sizes range from 8 to 19. Sewing machine needles will note both sizes, like this: 10/70 or 70/10. Refer to the following chart for the appropriate needle:

Needle
Fabric
Sizes

Specialty Needles

Denin/jeans
Heavy woven and denim
70/10 to 110/18
Leather
Leather, suede, thick non-woven fabrics
80/12 to 110/18
Machine embroidery
Used to embroider on fabrics
70/10 to 90/14
Metallic
Used with metallic threads
80/12

Specialty Needles

Ball-point
Knits
70/10 to 100/16
Sharp
Finely woven fabrics
60/8 to 90/14
Universal
Knits or woven
60/8 to 120/19

Notions.

Your sewing notions will vary, depending on your current projects, but these are a few you may want to keep on hand:

Straight pins

Pin cushion

Safety pins

Buttons/zippers/hook-and-eye closures

Embellishments

Thimble

Seam ripper

Needle threader

Chalk or pens made for fabric

Fabric.

Having a selection of fabric on hand will mean that you are always ready to sew. The fabric you save could be large scraps from previous projects or sale fabric you found for a great deal and couldn't resist. Quilters will also want to have scraps on hand. Quilting kits are a good choice if you want to create a themed quilt.
Tips from Overstock.com
If you need help with stitches, most sewing machines include a manual that explains how to use that stitch function on your machine. You can also find sewing and quilting books that explain sewing terms and techniques.
Practice sewing to improve your skills and get used to the machine before tackling a big project. You can find free patterns scattered across the Internet, but the best place to find patterns is in sewing and craft books. These will give you a lot of projects with step-by-step instructions, and you can become comfortable with sewing without wasting money on expensive fabrics and notions.
When you are a bit unsure of exactly which threads and accessories you should buy, pick up sewing kits. Sewing kits take the guesswork out of which threads or accessories will be used the most and can save you money, too.