Sewing Machine Buying Guide
by Stephanie Petersen
Although there are many tools for sewing, the main tool is the sewing machine. Many sewing machines are available, with prices ranging from under $100 to several thousand, depending on features. Before choosing your new sewing machine, think about which of those features you would like to use. Be sure to choose one that can do everything you would like but won't overwhelm you with unnecessary buttons and knobs.
Types of Sewing Machines: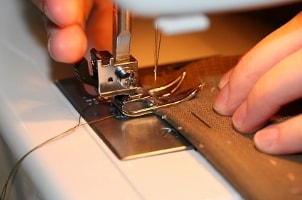 Shop Sewing Machines ▸
Electric:

Most sewing machines today are electric. These all create regular lockstitches (straight stitches that use two threads and look the same on the top and the bottom). Electric sewing machines are common and very versatile.

Computerized:

As electric sewing machines have been given more abilities, many have had small computer microprocessors added. Computerized sewing machines often have many fancy stitches programmed in, including embroidery designs. Buy computerized sewing machines only once you have mastered the basic functions of a simple machine, so you don't become overwhelmed.

Mechanical:

Old sewing machines were mechanical, but a few are still made today. Most create a lockstitch or a chain stitch, which only uses a top thread and is not as a secure as a lockstitch. Mechanical sewing machines are inexpensive, but they can be difficult to use.

Specialized processes:

You'll see many sewing machines that are designed just for certain processes, such as a blind hemming machine, a quilting machine, or an embroidery sewing machine. These are excellent if you are focusing on those types of projects, but not always helpful if you want to do any basic sewing; some will be able to perform basic sewing stitches as well. Specialized machines are perfect as a second sewing machine.

Sergers:

Sergers create an over-lock stitch, which wraps the edges of the fabric with four or five threads. Serger machines work on the edges only; most sergers even trim the edges off while you sew. Sergers let you give items a strong seam and a finished, store-bought look. You will need a basic sewing machine in addition to a serger to do any topstitching.

Mini sewing machines:

A handheld sewing machine usually only does a straight stitch or even just a chain stitch. These are excellent for travelers who want a portable sewing machine for minor repairs. Young beginners may start out using a mini sewing machine and then add other sewing machine accessories.