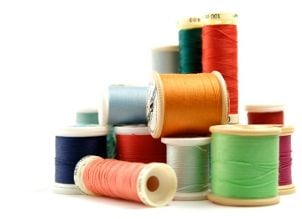 Before you can start sewing, you'll need the tools and accessories known as "notions," everything from the scissors with which you cut your fabric to the buttons you sew on to finish your project. You'll need many small items, so sewing organizers such as baskets or storage bins are helpful, too. New sewing supplies are always being invented; as you learn more advanced procedures, you will learn about more sewing accessories, but you'll want to start with these basics.
Basic Sewing Accessories:

Scissors and other cutting tools: Most sewing crafts can be completed with a basic pair of dressmaker's shears. Make sure you reserve your sewing scissors for cutting fabric; paper will dull your scissors. You may also like to have a small pair of trimming scissors by your sewing machine to trim threads away from the machine at the end of a line. When you work on fabric that may fray, you can let the zigzag line of pinking shears reduce fraying. Many sewers like the ease of using a rotary cutter on a cutting mat. Rotary cutters are especially helpful for quilters, who need to measure and cut many small pieces with straight edges.

Fabric-marking tools: Fabric chalk or fabric pens let you make washable marks on your sewing fabric, so you will know where to sew. Many sewers make most of their marks with straight pins, but fabric marking tools can be helpful.

Straight pins and pin cushion: You'll need straight pins to pin patterns to sewing fabric and to pin fabrics together where you want to sew them. You can use pins of medium thickness for most projects, but small pins are available for very delicate fabrics, and thicker pins are available for heavy fabrics.

Measuring tape: You want your project to be the right size, especially when it comes to clothing. A sewing measuring tape is softer than ordinary measuring tapes, letting you measure around your body to get an exact fit for clothing.

Thread: When you shop for thread, make sure it is the correct thickness for the fabric you will be sewing on and that it is intended for the method (hand or machine) you will be using; it should be marked clearly on the label. Also, if you are having trouble finding the right color of thread, you can safely use one a shade darker than the fabric; it will appear lighter once the project is complete.

Seam ripper: Every sewer makes a mistake eventually. A seam ripper lets you undo the damage with relative ease. A small pair of scissors can work but may be more frustrating to use than a seam ripper.

Travel kits: Travel sewing accessories can also be helpful, even if they are just used for sewing on loose buttons. Travel sewing kits can range from small sewing organizers with a few needles, some thread, and a few buttons to a large carrier with small versions of all the basic tools and even a mini sewing machine.
Sewing Machine Accessories:

Presser feet: Your sewing machine will come with a few different presser feet. Presser feet are used to hold and guide the fabric and other materials, such as zippers, or to guide the needle in doing particular functions, such as making buttonholes or rolled hems. Feet that do not come with your sewing machine can often be purchased separately; you may also need to replace feet if they get lost. Most presser feet work with many different sewing machines; make sure to double check for compatibility in the product description.

Bobbins: Bobbins will likely be included with your sewing machine, but you can never have too many bobbins. They hold the second thread, so you may want as many bobbins as you have colors of thread.

Needles: Sewing machine needles are different from hand-sewing needles because they are designed to be held in place on the sewing machine, usually with a flat back. A standard-size needle will probably come with your sewing machine, but you'll need different sizes for different sewing fabrics. Small needles would break if you tried to sew through thick sewing fabrics, and large needles would snag and tear delicate fabrics. Additionally, there are different needles for stretch fabric and woven fabric. You will need to replace sewing machine needles regularly to make sure they are sharp enough for each project.

Sewing tables or cabinets: A sewing machine cabinet can be very helpful. If you plan on using your sewing machine often or don't like the idea of having to pack up all of your sewing supplies every time you use them, you may want to consider a sewing machine cabinet or table. The best sewing machine cabinets and tables often have an extra surface for feeding fabric through. Many even have places to store thread and other sewing machine accessories and notions.

Buy Sewing Supplies
Back to Guides Directory