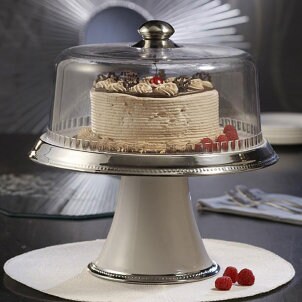 You're faced with a lot of options when you're shopping for kitchen and dining supplies for your home. From cookware and dinnerware to serveware and everything in between, choosing the right pieces while sticking to a budget can seem overwhelming. This serveware buying guide will help you figure out which serveware pieces you will need.
Shop for Essentials First:

Serving bowls: Serving bowls are probably the most essential and versatile serving dish. They're available in a wide variety of materials, sizes, shapes, colors, and styles and can be used for everything from serving salad, pasta, or vegetables to presenting fresh fruit on your kitchen counter or breakfast table. Casual serving bowls can even double as mixing bowls.

Serving platters and trays: You may not immediately think of serving platters and trays as a essentials, but when it comes to versatility, they're second only to serving bowls for their usefulness. Use them for everyday serving of fruit, bread, or entrees as well as for special events, like Thanksgiving turkey, Christmas ham, or party refreshments and desserts. You can even use a tray for breakfast in bed, or use it to bring snacks into the family room for movie night.

Serving utensils: Once you have the perfect serving bowl and platter, you need the right serving utensils. Start with salad tongs, serving spoons, and serving forks for dinners. A pie server and cake knife are also great to have around. A set of cheese tools are one of those things you may not think about until the moment you need them, right before party guests arrive. These make a nice wedding gift that many newlyweds may not have thought to add to their registry.

Oven-to-table: Purchasing a set of oven-to-table cookware is a smart way to start building a kitchen because it fulfills both cookware and serveware functions. Oven-to-table sets also make excellent wedding gifts.

Trivets: A trivet is a decorative platform upon which to place hot dishes to protect your table from heat damage. It's especially important to use a trivet or hot pad when serving food with oven-to-table serveware.

Pitchers: Every kitchen needs a couple of pitchers, both casual and formal. A plastic casual pitcher for keeping juice in the fridge is an inexpensive and useful item. It's also nice to have a slightly more formal glass or crystal pitcher for use at the table. For formal dinner parties or romantic occasions, an elegant wine decanter adds the perfect finishing touch.

Condiment sets: Condiment sets include everything from salt and pepper shakers and spice racks to hostess sets and dipping bowls. Choose your condiment sets based on your level of culinary prowess. For example, you may or may not need an extensive spice rack, but everyone needs a set of salt and pepper shakers.
Next, Choose Specialty Serveware That Suits Your Lifestyle:

Warming buffets and trays: Warming buffets and trays may not be essential for every home, but they're the ideal for keeping large amounts of food hot while serving it buffet-style at big events, such as weddings, holidays, and large family gatherings. Buy these if you're the person in your family who often hosts holiday dinners.

Tea and coffee sets: Most people serve themselves coffee and tea directly from the coffee pot or tea kettle into their favorite mug. But for dinner parties, a tea and coffee set makes an elegant statement. Shop for these if you love hosting formal dinners, complete with a dessert course.

Soup tureens: Soup tureens are large, lidded serving bowls with a notched rim between the bowl and the lid designed to fit the handle of a serving ladle while keeping the soup covered in order to preserve its heat. Soup tureens often come with their own matching serving ladle. If you host lunches or dinners in the winter or fall when soups are more popular, this may come in handy.

Gravy boats: Gravy boats are oblong, boat-like serving dishes, sometimes lidded and sometimes not, perfect for serving gravy. If you are hosting a Thanksgiving dinner, a gravy boat is an essential.

Outdoor serving: For picnicking and entertaining outdoors, you probably don't want to risk breaking your crystal stemware and china dinnerware. Luckily, there are lots of durable and elegant plastic or melamine options for outdoor serveware. You can even get a fully stocked picnic basket complete with place settings, flatware, stemware, and wine bottle opener.

Chip and dip servers: While you can always dump a bag of chips into a bowl and open a jar of salsa, serve this classic snack in style with a chip and dip platter. Chip and dip platters are like a bowl and plate all rolled into one. With an area designated for chips, crackers, or bruschetta and a central raised bowl for dipping, it's the perfect party serveware.
What Do You Want to Do Next?

Shop Serving Bowls
Shop Serving Platters & Trays
Shop All Serveware
See All Guides
Read More Kitchen & Dining Guides
Learn More about Tableware