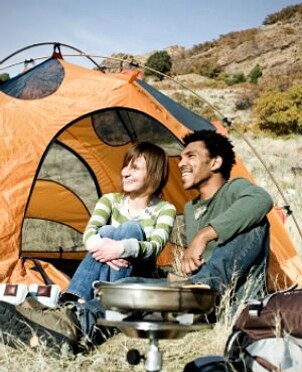 Whether you're back-country camping or sleeping in a tent in a campground, you can stay warmer and more comfortable when you stretch out on a Self-inflating sleeping pad. Think of Self-inflating sleeping pads as miniature airbeds. They give you some insulation from the cold ground and give your body something a little softer to rest on. They're not all the same, though, so consider some key factors before you choose one.
Self-Inflating Sleeping Pads:

Size and shape: Choose from standard sizes (S,M,L) in rectangular or mummy-shaped pads. Mummy-shaped self-inflating sleeping pads are designed to save weight by becoming narrower towards the feet and are more commonly used by backpackers. Rectangular camping mats tend to be a little bigger and heavier but give more material to move and roll around on. This convenience makes rectangular sleeping mats more popular among campers who stay in the campgrounds.

Weight: The balance between weight and comfort relies on personal preference. Heavier camping sleeping pads tend to provide more cushioning and insulation. But if you're backpacking, you'll want to keep your pack as light as possible; however, a sleeping pad is still a must, so find a sleeping pad that balances weight and comfort. When the weather is very cold, you may want to have the insulating value of a thicker, heavier sleeping pad. If car camping, there is no need to sacrifice comfort for weight, and you should not worry much about the weight of your sleeping mat.When car camping, an airbed is even an option.

Durability: Most Self-inflating sleeping pads are made with sturdy, waterproof material on the bottom (usually 150-denier or rip-stop polyester), important in cold weather and damp country. They sometimes get small puncture holes, so carry a patch kit with you. Some pads feature soft, brushed polyester on top.

Operation: You can wait a couple of minutes for your pad to inflate itself or help it along by blowing into the valve. When it's time to break camp and pack up, open the valve and roll the pad tightly, starting at the end opposite the valve. You may have to make a couple of passes to get all the air out. Close the valve tightly.

Storage: Many camping sleeping pads include a stuff sack, making a convenient package for backpackers to carry the deflated pad around. But when you're not sleeping on it, you might want to lay it out, open the valve (usually located at one corner) and let it inflate naturally. When you store the pad flat and inflated, with the valve open, you can help prevent the fill materials from compressing over time.

Buy Cots and Airbeds
Back to Guides Directory