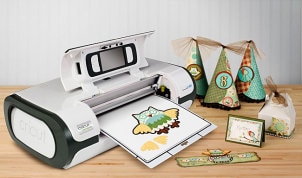 For the paper crafter, a Cricut die-cutting machine offers a new and improved way to create die cuts for homemade cards and scrapbook pages. With so many Cricut machines and Cricut cartridges available, you can now easily and quickly design any number of unique layouts for your scrapbook. So many options can be overwhelming sometimes, so we've put together this list of ideas for scrapbooking with a Cricut die cut machine to jumpstart your creative abilities.
Cricut Scrapbooking Ideas:

Cricut machines: There are now several models of Cricut die-cutting machines, so it's important to choose the one that best fits your type of scrapbooking. The basic Cricut machine, called the Cricut Personal Electronic Cutter, is adequate for most scrapbookers and paper crafters. This die-cutting machine can cut shapes and designs between 1 and 5 1/2 inches long, making it perfect for page titles, medium-size decals and basic layout decorations. The Cricut Expression is much larger than its predecessor and can create die cuts up to 23 1/2 inches long; the Expression die-cutting machine can help you create whole layouts for your scrapbook pages, large frames to highlight photos or even words and shapes for posters and projects. The Cricut Imagine is a print-and-cut machine, meaning that it is capable of printing colors, textures and patterns onto a paper and then cutting it into the desired shape.

Cricut cartridges -- words: Once you know which kind of Cricut die-cutting machine is best for you, it's time to choose Cricut cartridges for your scrapbooking and paper crafting designs. Words, letters and numbers make up one of the two major categories that die-cutting cartridges are grouped under, and they are very versatile scrapbook page elements. For example, decorating a page with the ABCs would pair perfectly with your child's kindergarten picture, her handprint and a sample of her own handwriting at that age. In a scrapbook for your daughter, use cartridges with words and letters to create "princess" or "sweetheart" die cuts; for your son's scrapbook, try "kicker of the year" or other phrases specifically related to his accomplishments and hobbies. Die cut words and numbers can form the titles of pages or sections, such as "First Grade" or "1998." You can even use them for photo titles and captions.

Cricut cartridges -- images: Die cut images are equally versatile for your scrapbooking layouts. Many cartridges follow a theme so your images stay organized; for example, a sports-themed cartridge could be perfect for your high school son who tries out for everything or a younger boy who begs all year to play in the city soccer program. Decorate the page surrounding pictures of your daughter's first band or orchestra performance with die cuts of instruments and music notes. Pair seasonal die cuts, like snowflakes, sleds and evergreen trees, with photos of Christmas celebrations or winter break festivities. Disney, Pixar and Sesame Street-themed die cuts are perfect for scrapbooks of your child's youth. With Cricut die-cutting machines and cartridges, anything is possible.
Tip from Overstock.com:

Browse the selection of Cricut supplies at Overstock.com to make sure you always have a replacement blade or cutting mat on hand when you need it. Also be sure to read our Cricut buying guide to learn more about what actual Cricut products are available and how they work together.

Buy Cricut Die Cut Machines
Back to Guides Directory