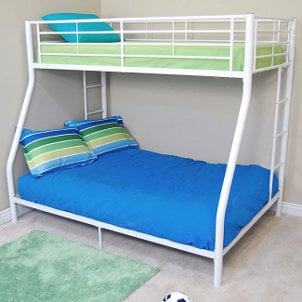 Children's beds act as an empty canvas just waiting to realize its potential. To a child, a bed is not just a place for sleeping, but a place for secrets, toys, and make-believe. Kids' beds can become pirate ships or spaceships and change just as quickly into a covered wagon or castle. Their imagination knows no bounds, which can sometimes lead to accident-prone afternoons. The ever popular "Let's-pretend-the-bed-is-a-trampoline" game usually ends in tears. To keep your kids as safe as possible, make sure you follow these safety tips and make sure your children's beds meet the following safety guidelines.
Kid's Bed Safety Tips:

Match children's bed frames to the mattress: Kids can be quite rough on their furniture during playtime. A way to prevent accidents is to make sure the mattress on your child's bed is the right size. If the bed frame is too big for the mattress, a child standing on the mattress could easily lose their balance when the mattress slides in the empty space. It also opens up opportunity for their feet to get caught between the mattress and the headboard, causing injury. Make sure you measure correctly for a mattress when you purchase a new children's bed.

Position children's beds snugly against the wall: Children's beds need to rest firmly against the wall. This keeps children from becoming stuck between the mattress and the wall when they play on their bed. It also protects them from becoming wedged if they roll around in their sleep. Setting your kids' beds against the wall also keeps books and toys from falling behind the bed and getting lost, as well as giving the bed frame added stability.

Mattress support: Make sure there are plenty of slats for mattress support. Without this support, your child's bed will sag in the middle and keep them from getting a good night's rest. A lack of this support could also be dangerous if children decided to jump on the bed like a trampoline.

Take extra precaution with children's bunk beds and loft beds: If your children sleep on a loft or bunk bed, there are several additional safety features you need to be aware of. Make sure ladders leading up to children's bunk beds and loft beds are firmly attached to the side of the bunk. Make sure they know to use only the ladders to climb up to and down from the top bunk bed. Going an alternate route can have disastrous effects. Most of the injuries that come from kids' bunk beds are due to height. Many bunk and loft beds have railings on the top bunk to prevent your child from rolling out and falling to the ground; make sure these railings are tightly secured.

Help your kids understand that loft and bunk beds can be dangerous if mishandled: Explain to your children that although playing on the bed, is fun they need to be careful. If they understand the need for caution, there will be fewer accidents. Like any piece of furniture, children's beds need regular maintenance. Watch out for cracks in wooden furniture and sharp broken metal pieces in metal beds. It might seem like there is a lot to keep track of, but if you follow these children's beds safety tips, you can reduce the risk of injury and your kids can continue to play happily in their world of make-believe.

Buy Kids' Beds
Back to Guides Directory