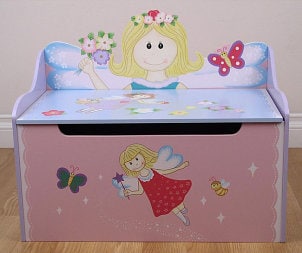 One glance inside your kids' kids' storage chest might show you a jumbled mess of toys, but to your kids, a toy chest holds unlimited potential for fun. Kids are great at entertaining themselves. Their imaginations are a continuous stream of fantastic scenes and characters. Sometimes, they get so caught up in what they're doing that they forget to look before they leap or watch where they're walking. As a parent, it's important that you do everything you can to keep them safe. One way is to make sure that the kids' storage chest you give them is as safe as possible. Here is a safety checklist for a toy chest.
Buying a Toy Chest:

Toy chest lid. Free-falling lids are the cause of most accidents. Kids aren't always aware of their surroundings and can forget to watch out for falling lids. Lids that slam have the potential to hurt heads, necks and fingers. Check the tension of the hinges of the toy chest's lid to make sure it will close gently in order to avoid accidents. However, if you find a toy chest that you and your kids absolutely love but it has a free-falling lid, don't despair. Just invest in a handy toy-chest safety hinge. This hinge will make the lid drop slowly, and you can still get what you want and keep your kids safe in this win-win situation.

Edges. Inspect your toy chest when it arrives for sharp edges around the lid and around the feet and hinges. It's a good idea to check the toy chest on a regular basis for wear and tear.

Size. Make sure that the toy chest you purchase will hold all the toys. If you're planning to store big toys, make sure the toy chest is deep and wide enough to fit them. Just be careful to instruct your kids to stay out of the toy chest themselves if it's big enough for them to fit inside it.

Easy to open. Make sure it's easy to open. It's best if the toy chest doesn't have clasps that would prove tricky to little hands and fingers.

Paint. It's always a good idea to check toys and storage solutions, especially antique models, for lead paint and other potentially harmful chemicals.

Buy Kids' Storage
Back to Guides Directory