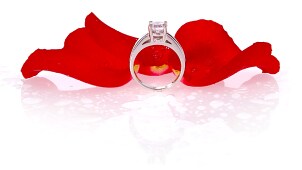 Whether you are picking a wedding ring, shopping for engagement rings or looking for one of many fashion rings to add to your wardrobe, choosing a ring setting is an important step in finding the ring that fits your personality and style. Ring settings come in many different varieties, and buyers often overlook ring setting during the shopping process. Being knowledgeable about ring settings can help you choose a ring that will be just right for you.
Information about Ring Settings:

The most popular types of ring settings are classic settings. If you want a ring that is beautiful and traditional, then you might consider one of the many lovely classic ring settings.

Classic Settings

The prong setting, arguably the most classic ring setting available, was first introduced in 1886 and has since been a top ring design choice, particularly in engagement rings. Prong settings are simple and stunning and have a large central stone. They are also raised, which allows plenty of light to pass through the stone, making it a popular choice for diamond rings. Most prong settings contain six or four prongs, although there may be custom exceptions for larger stones. Prong settings are perfect if you want to show off a particularly amazing diamond or expensive gem.

Another classic ring setting is the bezel setting. Bezel settings encase the stone in a metal band in order to protect the diamond or gemstone and enhance the look of the ring with additional gold or other precious metals. This setting is particularly popular with round diamonds and gemstones.

Multi-stone ring settings are slightly different from classic ring settings and house various precious stones. If you are looking for a ring that truly makes a statement, then you might select one of many multi-stone ring settings.

Multi-stone Settings

The flush setting is fun and uses smaller stones such as diamonds or gemstones, setting the stones right into the band. These rings have a touch of whimsy, because the stones are incorporated directly into the ring band and are typically dotted around the surface in an artistic fashion.

Bar and channel settings are similar to bezel settings because they hold the stone in, but they encompass diamonds or gemstones with bars on two sides rather than surrounding them entirely. Bar settings use metal set between individual stones, leaving the other two sides exposed, while channel settings use bars on the outside of the stones, letting the diamonds rest directly next to one another. These settings are popular in wedding bands because they have a simple, classic look but can also be embellished with multiple diamonds for a bit of flair.

Pave settings are unique, lovely and can make a big statement. They incorporate stones with invisible prongs, making the ring's entire surface appear covered in sparkling diamonds and gemstones. Pave-set rings are very versatile and almost always stand out and grab attention.

A cluster setting is a great way to show off a variety of precious stones. These settings might have several small stones grouped together in the center of the setting to appear as one large stone, or they can have small stones around a medium-sized stone to make it appear larger than it is. Cluster settings are also one of the most creative ways to display unique and rare stones that go well together.

In addition to classic and multi-stone ring settings, there are more innovative ring settings available. These rings are the perfect choice for anyone who wants a more unique ring with a modern form.

Modern Settings

Tension settings are fun and beautiful while still being classic. These settings pinch a specific diamond or gemstone through a cut in the band, tightly gripping either side of the stone to hold it in place. This makes the stone look like it is floating, especially when worn.

Invisible settings are a modern solution for a sleek ring design. Invisible settings are similar to prong settings, but they hold the stone with prongs under the stone, rather than around it. This method creates a ring that is sleek and minimalistic while still having a traditional look.

Buy Rings
Back to Guides Directory