Ring Buying Guide
by Staff Writer
Rings are unique among jewelry accessories. The round shape symbolizes love and eternity; the many designs can commemorate almost any special occasion; and you can enjoy the beauty of a ring with every movement of your hand. Most people will own several special rings in their lifetime -- wedding ring, school ring, birthstone ring -- and many women and men love to wear them as fashion accessories. If you are considering buying ring jewelry for yourself or as special gifts, this ring buying guide will provide you with basic information to help you make an informed jewelry buying decision.
Buying Rings: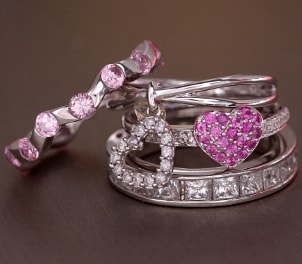 Shop Rings ▸
Rings for your collection:

Just as with clothing and hairstyles, each person will have a different taste when it comes to ring jewelry. Diamond rings are sparkly and glamorous, while plain silver rings can really make a statement. Consider your lifestyle with shopping for rings. Do you work with your hands? Stainless steel and titanium rings will stand up to years of abuse and look great for a lifetime. Are you on a tight budget? Sterling silver rings are both shiny and affordable. Your wardrobe may also dictate your ring shopping. If you wear a lot of dressy gowns, then diamond jewelry may be the best choice for you. If you keep it simple with jeans and T-shirts, then gold-plated stackable rings might become your favorite accessories.

Right-hand ring:

Every stylish woman needs at least one spectacular diamond ring in her fine jewelry collection. When the time comes to reward yourself with that piece, consider a diamond right-hand ring. These unique rings celebrate individuality with bold, fashion-forward designs that are full of glittering diamonds set in yellow gold, white gold or platinum. Find your own diamond right-hand ring and make it part of your signature look.

Birthstones for grownups:

Pretty birthstone rings make wonderful gifts for young girls and teenagers, but adults love colorful gemstones, too. For the woman who loves magical color, gemstone rings are available in a variety of elegant designs. If you want an original design, look for vintage jewelry. Vintage estate rings often feature stunning gemstone patterns, cocktail styles and one-of-a-kind appeal.

Rings for guys:

Men's jewelry keeps gaining in popularity with new designs that are sleek and attractive but not overdone. You can enhance your fashion with the traditional men's silver and gold rings, but today's jewelry designs for men offer so much more than the simple signet ring. The contemporary guy also wears tungsten, steel or titanium rings in styles that match his fashion sense. Men's gemstone and diamond rings are also available in a range of trendy selections.

Design and style:

Creative jewelry artists create rings in many original designs, some of which you already recognize, like the solitaire ring with one dazzling diamond. Here are a few stylistic terms you will see in ring descriptions:
Ring Styles
Cluster: A grouping of gemstones that forms a compact pattern is called a cluster. The cluster offers the jeweler a creative way to show off multiple gemstones.
Cocktail ring: Similar to a cluster, the cocktail ring features a large pattern of sparkling gemstones. It is sometimes called a dinner ring. Vintage cocktail rings are popular collectibles.
Eternity: An eternity band features a row of diamonds or other stones that encircles the entire band. The prong and channel settings are most common in these wedding rings.
Pipe: A pipe ring has a flat surface with straight edges and one width for the entire band.
Spinner: This ring has two bands, one set on top of the other. The top band spins and often features an attractive geometric pattern.
Stack: A stack ring features two or more bands that are meant to be worn together.
Three stone: Most often seen in anniversary and bridal rings, the three-stone diamond ring is symbolic of the past, present and future of love. This style of setting gemstones in a horizontal row is extended to five-, seven- and nine-stone rings.
Ring care:

Beautiful, well-made rings will last for decades, sometimes for generations, with some gentle care and preventive maintenance:
Cleaning rings
Prepare a mild cleaning solution of water and a few drops of dish soap.
Soak metal bands and rings with diamonds and/or gemstones for a few minutes.
Gently clean the settings with a soft brush; a toothbrush is good.
Rinse with fresh water and dry rings with a soft, lint-free cloth.
Avoid soaking pearl rings and rings with soft gemstones; clean with a soft cloth dipped in the cleaning solution and rinse.
Put on rings after applying lotions and cosmetics.
Storing and fixing rings
Store rings in pouches or in a jewelry box.
Protect rings by keeping each one in its own slot or compartment.
Rings with stones and prongs can scratch other jewelry, especially pearls.
Examine rings often to find loose settings.
Have a professional jeweler check the settings on gemstone and diamond rings every two years.
A professional jeweler can tighten the stone settings if necessary.
Polish silver rings safely at home with commercial silver jewelry cleaners.