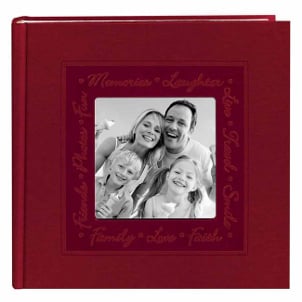 If you've been storing old photos in boxes in the closet, make photo albums today to organize, store and display your memories. If you took the time to take a snapshot of a moment, it's worth remembering and showing off in an elegant picture album, and these books of photos are a much better organizational strategy than boxes because they take up less space and group your photos by category or chronology, making photos easy to find and use. Besides the organizational qualities of photo albums, there are plenty of other reasons to take the time to make a photo album of your wedding or childhood pictures. Keep reading to learn some of the top reasons to make a photo album.
Creating Photo Albums:

Store and display photos: Picture albums are the perfect way to both preserve and show off your photos. Most 5x7 photo albums feature slots for captions so you can record the names of people in each photo, the date the picture was taken and where the adventure took place. You can place doubles of the same photo in the same slot so they're in one location. Assembling wedding photo albums or baby photo albums makes it easy to go back and find these pictures when you need to make copies for other albums, scrapbooks or your children's school projects. Use leather photo albums as elegant coffee-table or end-table books; they'll look great, inspire conversation and offer you a chance to show off your achievements and family to friends. Prop open a 5x7 photo album on a bookshelf as decor or label the spines of several photo albums and make your own personal library of photo books.

Keep children entertained: Do your children have a hard time being quiet in church, at the library or in other quiet places? Keep a 4x6 photo album in your bag of tricks to keep them entertained. These albums are small enough to go almost anywhere your family goes; you can even store a few 4x6 photo albums in the pockets and niches of your car to keep kids and family entertained on long and short car rides. Kids love to see their own baby photo albums and are bound to be interested in professional photo albums featuring family pictures and school pictures, too.

Remember special occasions: An elegant leather photo album is the perfect way to remember special occasions. Commemorate everything from births to graduations and weddings with professional photo albums. A wedding photo album is especially important to create, as it preserves and displays memories of the most important day of two people's lives. Part of remembering special occasions through photo albums can include giving finished albums as gifts, too.

Buy Photo Albums
Back to Guides Directory