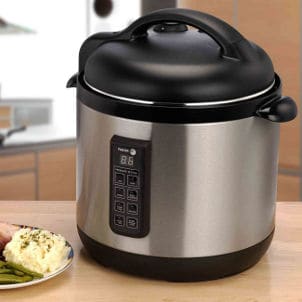 It's easy to feed a crowd when you purchase a 20-cup rice cooker to use in your home. With their large capacity and nonstick interior, these rice cookers allow you to make enough rice for plenty of guests without a sticky mess. Whether you need this type of automatic rice cooker for potlucks at work or just want to upgrade your old electric rice cooker to a larger one, you'll save valuable time when you buy a rice cooker for your home. Read on for just a few reasons to buy a 20-cup rice cooker.
Why Buy a 20-cup Rice Cooker:

A 20-cup rice cooker is perfect for family and work parties. If you're short on time and realize you have to bring a main dish to the potluck, a large electronic rice cooker can save the day. Simply add the right amount of rice and water to the cooker, plug it in and hit the button. While the rice in an electronic rice cooker will cook quickly, you won't have to worry about overcooking it while trying to keep it hot; many rice cookers have a warming feature that keeps your rice warm for up to 12 hours. Make a quick sauce or stir-fry some meat and vegetables and you have a wonderful meal ready in minutes. The best rice cooker will have a nonstick coating so it is easy to clean.

A 20-cup rice cooker will make enough rice for leftovers and future dinners. When you know you'll have a busy week and not a lot of time to make meals for your family, you'll love the convenience of your automatic rice cooker. Its 20-cup capacity will allow you to make plenty of rice for dinner on Monday, Tuesday and Wednesday. If you're afraid your family will tire of rice after a few days, serve it with chicken or pork and spice it up with a curry sauce. You may also be able to buy a rice cooker that cooks soup and even sushi for a more versatile appliance.

A 20-cup rice cooker will be great for parties at your home. Don't panic when you'll be entertaining guests at your home. With an electric rice cooker, you can make enough rice for a sushi party, Indian food-themed event or even a casual get-together with friends. Cleanup will be easy, too; the best rice cooker will have a removable insert that can easily be wiped clean with a soapy cloth.

Buy Rice Cookers
Back to Guides Directory