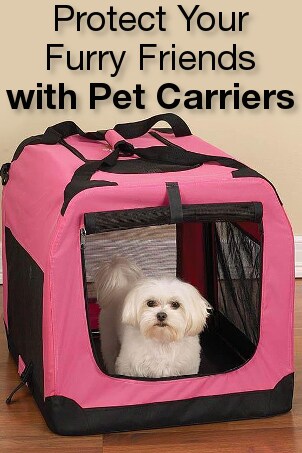 SHOP PORTABLE CARRIERS NOW >>
When you take your pets on short trips to the vet or on long vacations, a pet carrier provides a familiar spot for your dog or cat to rest and a safe way to get from one place to another. A comfortable dog carrier is also beneficial for use at home. Pet carriers and strollers come in many sizes, but they should all offer one basic thing: protection for your beloved pet.
Using a Pet Carrier:

A comfortable place for sleeping, traveling, or just hanging out: Animals may become anxious in new surroundings, and their carrier offers a solitary place where they can get away from outside stimulus and rest. A secure dog or cat carrier, hooked into a seat belt, offers protection for your animal during car trips. If you want your pet to travel on an airline, he may have to ride in a pet carrier in the plane's storage compartment or under the seat.

Different types for different pets: Basic carriers may feature thick molded plastic with ventilated end panels and window inserts. Most pet carriers will come with a handle for transporting the pet while it is in the carrier. In the case of large dogs, the handle serves to transport the carrier only, and the dog walks on a leash or rides in a kennel cart until his owner is ready to set the carrier down in one place. Pet strollers make it easy for you to push a pet, so you don't have to strain your arms.

Pet carrier style: Small pet carriers may resemble a shoulder bag or a backpack, so the pampered pet can go along with his master on shopping trips or on a walk to the park, safely above ground level. Stylish, small pet carriers should provide a reinforced bottom and sides that will not collapse on your pet if you lean against a wall. For larger pets, carrier covers in fashion fabrics can be stylish when personalized with the pet's name and optional embellishments.

Safety matters: A pet carrier should protect your pet from other animals. In addition to a strong supporting structure, pet carriers that sit on the floor must have secure latches that won't come open easily. The bars on the carrier should be spaced closely to prevent your pet from wedging her head between them and choking. If the carrier assembles by connecting two or more parts, each part should fit snugly into the next to prevent the pet from escaping.

Safe and comfortable accessories: You can purchase extra pet supplies for many pet carriers that will enhance your pet's safety and make his time in the carrier more comfortable. For airline flights, freezable water trays allow your pet to lick the ice as it slowly melts, and carrier pads offer a welcome cushion your pet will appreciate. Insulated carrier covers with window flaps will keep your pet comfortable in cold weather.

Shop Pet Carriers
Shop Pet Strollers
Shop All Pet Carriers & Travel Supplies
See All Guides
Read More Pet Guides
Learn More about Pet Gear & Supplies