Printer Buying Guide
by Staff Writer
A high-quality printer can be a multifunctional tool for professionals and students alike. Whether you only print photos and documents occasionally or your office sees a lot of high-volume print jobs, you can find office tools that will fit your situation. Our printer buying guide will help you know just what to look for in a great printer for your home or office.
Buying a Printer: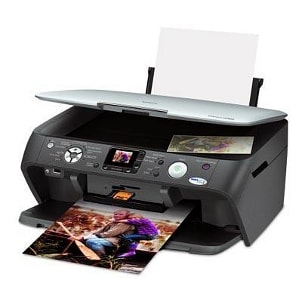 Shop Printers ▸
Inkjet printers:

Basic inkjet printers are great for printing text and the occasional photo. They have a higher cost-per-page for printing, but that cost is offset by the low cost of the inkjet printer, especially if you have a low printing volume. Portable inkjet printers that you can take along with your laptop are also available.

Printer cartridges: Inkjet printers use cyan, magenta and yellow ink cartridges to mix millions of possible colors. The configuration and compatibility of inkjet cartridges varies from printer to printer, so finding compatible cartridges is essential to extending printer life and getting quality prints.

Ink colors: Separate ink cartridges are convenient because you can simply replace low or empty printer cartridges instead of a single all-in-one color cartridge that still has a lot of ink in it. Inkjets usually have a separate black ink cartridge for text and grayscale printing.

Laser printers:

Laser printers save time and money when you print large volumes of documents. Laser printers work faster than inkjet printers and have a lower cost-per-page. Color laser printers produce sharp, vivid colors at high resolutions.

Networking: Some laser printers have networking capabilities for connecting to a home or office network. A built-in print server will help queue multiple print jobs at once.

Toner: Laser printers use toner cartridges rather than ink cartridges to print. While toner refills are more expensive, they print many more pages than ink refills.

Photo printers:

A dedicated photo printer is designed specifically for image printing on photo paper. Professional and novice photographers will probably want an inkjet photo printer, which usually additional ink colors to the inkjet mix for deeper, brighter hues.

Camera docking: A built-in camera dock or flash memory card reader make these printers especially handy for printing photos directly from your digital camera. Many photo printers also have small LCD screens for previewing photos before printing.

Borderless: You may want to make sure the printer is capable of borderless printing, so your prints go all the way to the edge of the photo paper.

Multifunction printers:

A combination printer, fax, copier and scanner can replace multiple office electronics with a single device. An all in one printer can be either laser or inkjet. Just as with other printers, the features on a multifunctional printer vary.

Color: Typical printer-scanners use 24-bit color depth, but 48-bit models are available for a truer color reproduction.

Resolution:Scanner resolution is measured in pixels-per-inch (ppi). The higher the ppi, the higher resolution your scanned images and faxed documents will be.

Phone: A multifunction printer with a phone handset can also double as a landline phone.

Pictbridge:

Pictbridge is a proprietary industry standard that allows for direct transfer from your digital camera to your printer instead of your computer. Other similar features are available, but Pictbridge is one of the most widely used.

Ink cartridges:

Compatible cartridges are available for your printer from the original equipment manufacturer (OEM) or from a third-party maker. You can also get ink refill kits or recycled ink cartridges that can save you money if you don't mind a little messy ink refilling.
Ideas from Overstock.com
A college student will print a lot of text, along with the occasional colored graph for an important presentation. A basic inkjet printer would work just fine for those tasks. Pick up additional cheap ink cartridges or ink refill accessories from Overstock.com so you don't run out of ink just as an important paper is due.
Digitize your old photo albums with a multifunction printer-scanner. You can even touch up or enhance low-quality photos with imaging software. Once they're digital, you can back up your photos to disc and share them with family and friends online.
Don't forget to stock up on printer paper. A couple of reams of printer paper will be fine for documents, but if you want high-quality prints of your digital photos, look for some glossy photo paper that is compatible with your printer.