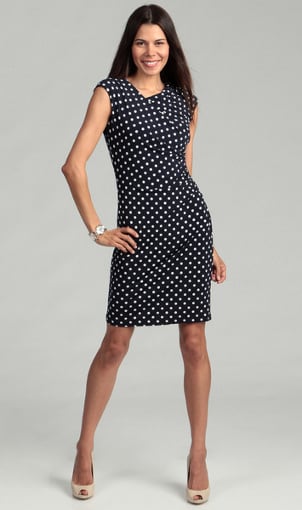 Does the pattern you prefer for your clothing and accessories reflect the inner you? A study conducted by a fashion history professor at Woodbury University says yes. It turns out that the designs we're most attracted to may, in fact, be closely linked to some of our best qualities. Want to know what your favorite print says about you? Read on and see if the study's findings ring true for you.
Prints and Personality:

Horizontal stripes: If you've never met a nautical stripe you didn't like, chances are that you have a strong sense of self-worth. Research suggests that people who prefer horizontal stripes tend to believe in themselves. On the flip side, if you need a little boost of confidence, try a striped tee under a basic black blazer. It's a clean and simple look, and you can dress it up or down. Besides, horizontal stripes have long been known for their slimming effect, and that's something you can certainly feel good about!

Florals: A floral can be either soft and feminine or bright and playful, so it's no surprise that people who love floral prints are outgoing and personable. If you choose floral prints above stripes or dots, chances are that you're a people person. Florals are open and inviting, and incorporating floral prints into your outfit can make you seem open and inviting, too. The pattern is popular for dresses, but try mixing it up with a fresh floral-print T-shirt or handbag. You can even mix florals with other prints to give your outfit a more modern edge.

Polka-dots: If you simply can't pass up polka-dots, your personality is probably just as lively and energetic as the playful print. The study revealed that those who gravitate towards polka-dots are dynamic multi-taskers. If you need a little pick-me-up, try incorporating a few polka-dots into your wardrobe. Even in neutral tones, like black, white, and grey, polka-dots are fun, playful, and an easy way to spruce up a look.

Animal prints: From leopard to zebra, there's a lot to love about animal prints. While the look certainly has its wild side, animal prints may also reflect the creative leader in you. It's certainly the most varied of the prints, with everything from spots to stripes, which gives you a lot of room to for variety. Bring out your creative side and mix animal prints with bright colors -- like a neon pink belt on a leopard print skirt or a zebra stripe in a hot shade of orange.

Vertical stripes: It's no surprise that the vertical pinstripe is a staple of business wear; a preference for vertical stripes means that you are likely a go-getter. The pattern isn't all business, however. Recent trends have taken a much more playful approach to the pattern, with wide, bold stripes in bright colors and variations on the vertical line, like the popular ikat print. Play around with different looks to give your go-getter attitude a bit of an edge.
What Do You Want to Do Next?

Shop for Women's Clothing
Shop for Accessories
See All Women's Products
See All Guides
Read More Clothing & Shoes Guides
Learn More about Women's Clothing