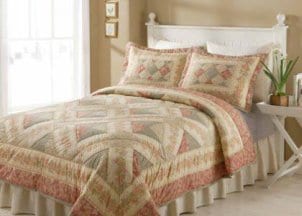 Out of all the bedding made, quilts may be the most diverse. Quilts are produced in all kinds of colors, patterns, sizes, styles and types. If you're looking for a quilt but don't know where to start, take a look at the popular types of quilts below to learn more about this beautiful kind of bedding.

Amish quilts: These beautiful quilts reflect the Amish way of living and feature solid colors, deep hues, geometric patterns and very little embellishment. Amish quilts contain the highest quality of construction and stitching, and, sometimes, the wonderful stitch patterns (scrolls, feathers) contrast with the simple backgrounds of their quilts.

Applique quilts: These quilts use a French needlework technique where fabric pieces are sewn onto another piece of material to create a design. Applique is used extensively in the quilting process and is not to be confused with patchwork. Patchwork pieces are joined together; applique is sewn on top of the whole piece.

Baltimore album quilts: Baltimore album quilts came from Maryland in the early 1800s. Each block in the design of these quilts is appliqued differently, often in ornate floral patterns.

Bangladeshi quilts: These quilts are made with layers of Saree cloth. Saree cloth is silk cloth used by women of India to wrap and fold around the body as a garment. The cloth is usually 40 to 60 inches wide by 6 yards long. These quilts are used as bedding or as decorative pieces.

Bargello quilts: Bargello quilts are created with offset squares in an up-and-down geometric "V" pattern. The small squares of different fabrics and the colorful designs make these quilts true works of art.

Hawaiian quilts: Hawaiian quilts are not pieced, and they usually showcase a large, symmetrical applique in the center of the quilt. Most often the background is white or another solid color.

Patchwork quilts: Patchwork quilts are constructed of many small pieces of fabric which are put together in an improvised or irregular pattern. This is a well-known quilt style, and examples of historical patchwork quilts are found in many museums.

Ralli quilts: Ralli quilts, sometimes known as rilli quilts, are traditional quilts made in India or Pakistan. There is an abundance of embroidery as well as applique on the patchwork patterns.

Star quilts: Star quilts are created with a large star shape, or several star shapes, dominating the pattern.

Wedding ring quilts: Wedding ring quilts are crafted in a design of interlocking rings. This pattern goes far back in history: in the fourth century it was used to decorate drinking cups in Rome. Wedding ring quilts are highly popular and make wonderful wedding gifts. If you're looking for a gift to please an engaged couple, you can't go wrong with a wedding quilt. Bedding always makes a significant gift for the bride and groom, and a quilt with coordinating Egyptian cotton sheets can be even better.

View All Quilts
Back to Guides Directory