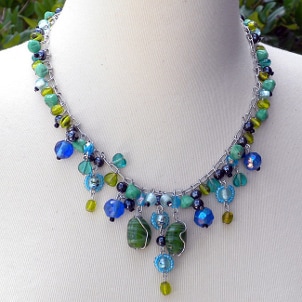 Trends have started to emerge even in the world of handcrafted necklaces, despite their unique designs and rare numbers. You already know if your jewelry box is lacking in handmade necklaces, but choosing which necklaces to add to your collection can be difficult when there are so many beautiful handmade necklaces available. To help you make that choice, we've created this list of popular types of handcrafted necklaces. Keep reading to learn how to narrow your choices and find the best handmade jewelry for you.
Popular Handcrafted Necklaces:

Beaded: Beaded handcrafted jewelry is a popular choice because it's generally very easy to keep and clean. Beaded necklaces come in many styles and colors. Wear a thin, delicate beaded necklace with your suit to work or your formal gown to dinners and social events; it will highlight your ensemble without looking cheap or detracting from the look. A thick and chunky beaded necklace is a statement-making piece of jewelry and will attract attention, so wear it to more casual parties or with simpler outfits. Beaded handmade jewelry can be appropriate for every occasion.

Gemstone: Like beaded jewelry, gemstone necklaces can be chunky or delicate, have multiple colors or one or be brightly colored or neutrally colored. In addition to those options, gemstone necklaces also tend to include a large selection of religious jewelry as well as abstract and natural designs. Gemstone necklaces usually have a slightly higher price tag than other types of necklaces, so be sure to choose your favorite precious stone, such as your birthstone, or your favorite color combination, since many gemstone necklaces do combine multiple gems.

Pearl: Don't let the traditional white pearl make you think that handcrafted pearl necklaces have to be boring. Pearl necklaces often use other gems, such as chalcedony and amethyst, or beads to give the necklace color and spice. You can also find pearl handcrafted jewelry featuring exotic colored pearls, like black Tahitian pearls or South Sea pearls in white, silver, cream, gold or pink. Pearl necklaces are the epitome of elegant jewelry and are sometimes paired with other iridescent gems, like moonstone or opal, for a truly opulent look.

Pendant: Like the other kinds of handmade jewelry, pendant necklaces offer you a lot of choices. The most common pendants have a simple sterling silver chain with one beaded or gemstone focal point. Other kinds of pendant necklaces feature multiple pendants in the same chain, religious symbolism, choker style or large eye-catching pendants. Look for pendant necklaces with carved fossils or shells for a nature-inspired look. Pearls, beads and gems on pendant necklaces combine two of the most popular types of handcrafted necklaces and are a great investment to have in your jewelry box.

Buy Handmade Necklaces
Back to Guides Directory