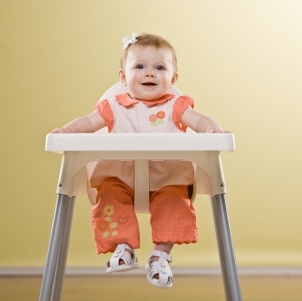 Once your baby starts eating solid foods, high chairs become one of the most important pieces of baby gear in your home. Having your baby sit up in high chairs to eat solid foods is easier for parent and baby, and can even reduce the risk of choking. Once you've decided to buy a high chair, you need to decide on the style of high chair to buy. With a large variety of baby high chairs on the market, from infant high chairs to booster seats, you'll want to find a chair that suits your kitchen and eating habits and that complements your sense of style. The following tips will guide you through popular trends in high chairs so you can find one that suits your taste and your baby's.
High Chair Trends:

Fun prints: One of the easiest ways to pick a baby high chair you love is to look for a high chair with a unique print that catches your eye. Many high chairs and booster seats come with printed seats or seat covers, while others may come with a printed high chair tray as well. If you're looking for something trendy and fun, look for bold, bright prints for your high chair.

Contemporary shapes: Modern high chairs are becoming more and more popular. With unexpected shapes, bright colors and unique designs, modern high chairs are as much a conversation piece as they are functional baby gear. Many contemporary high chairs focus on safety and convenience as well, making contemporary high chairs some of the favorites of parents and babies alike.

Wooden: Not only are wooden high chairs classic, but these throwback styles of high chairs are the favorites of many parents who want a simple high chair that will complement their home decor. Wooden high chairs are easy to clean, look great and are sometimes sturdier than other styles of high chairs and booster seats. While many wood high chairs are stationary, some models are designed to fold up easily for storage.

Convertible: Increasingly popular, convertible high chairs appeal to parents who want to get the most out of their high chair. There are many styles of convertible high chairs. Some convert from a high chair to a booster seat for toddlers and even a stool for older children. Other styles of convertible high chairs will convert from a high chair to a toddler chair and table or even from a high chair to a baby swing.

Booster seats: Once strictly for toddlers, booster seats are becoming more popular with styles designed to safely seat infants. Booster seats are convenient for parents with limited space, since they typically attach to either a chair or the edge of a table. Infant booster seats can even be placed on a countertop for easy feedings.

Buy High Chairs
Back to Guides Directory