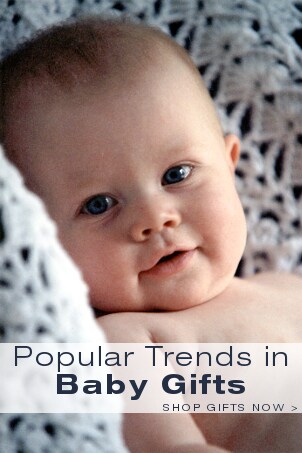 When you're headed to a baby shower or the maternity ward, a great gift can help you celebrate with the new parents and welcome their baby into the world. A wide variety of baby gifts are available, and parents receive everything from baby furniture to pacifiers as gifts. If you're searching for the perfect gift, the selection can be intimidating. To help narrow it down, this list of popular baby gift trends can give you an idea of the best gifts to give.
Popular Baby Gifts:

Gift sets: Baby gift sets are one of the easiest and most useful gifts you can give expectant parents. Baby gift sets generally come in a variety of themes for you to pick from. Layette sets help the new mom and dad bundle up their baby, and bath time gift sets make a splash as baby shower gifts. You can find gift baskets designed specifically for girls or boys, or you can even buy some essentials and create your own baby gift basket.

Keepsakes: Every parent wants to remember the birth of their child and those precious few months. Baby keepsakes can help them do just that. They're thoughtful and lovely newborn baby gifts. A keepsake box is the perfect way for the new parents to save a lock of hair, and hand and footprint sets and frames help parents remember how little their baby was. An engravable sterling silver baby rattle is a popular baby keepsake gift that parents will love and be able to pass down to their child.

Baby toys: For the first several months, baby toys will mainly be decoration in the nursery, but it won't be long before the little one will be interested in a few toys. Mobiles, stuffed animals, and wooden toys are all as beautiful as they are functional. If you need a few more ideas, read our guide on the best baby toys to give.

Diapers and supplies: Babies go through several diapers a day, so it's easy to imagine that parents will spend a lot on diapers and diaper-changing supplies. This makes diapers more and more popular as baby shower gifts. Find out what type of diapers the parents have chosen to use, and put together a diaper gift basket with everything needed to change the baby's diapers, including wipes and diaper rash cream. Diaper cakes are a popular and cute way to give parents a newborn baby gift that will come in handy when baby arrives.

Designer gifts: The hottest gifts are always designer, and that's true for baby gifts as well. Whether you choose to give a chic designer diaper bag or a popular teething toy, the new parents are sure to appreciate having the very best. Having and preparing for a baby is expensive, so parents may not be able to buy designer baby supplies themselves, making them the perfect gift to give.

Shop Baby Gifts
Shop All Baby
Find the Perfect Present in Our Gift Center
See All Guides
Read More Baby Guides
Learn More about Baby Gifts